With the purpose to grow customer relationships, over 100,000 Shopify merchants sold in-person, in 2018. Even though there is a rapid growth speed of online shopping, it's undeniable that retail stores still play an integral part in modern commerce.

Recognizing the power of the combination between selling in-person and online, Shopify introduced the new feature, Shopify Retail Kit. This new update provides a fully-featured hardware collection to help Shopify merchants deliver an unmatched shopping experience in store.
Let's find out more about this new hardware Kit for merchants.
Beta Partner
Being different from other e-commerce competitors trying to update more online services for their merchants, Shopify chooses another direction. And it is revamping its offline tools.

"We have 820,000 merchants and when those merchants test out the market and see if it's working online, they start thinking about offline," said Craig Miller, chief product officer, Shopify. "They love that they can use the same solution online that they've been using for years to transition to do offline as well."

Lively, a direct-to-consumer company, is one of the first brands using Shopify's new retail hardware collection.

Michelle Cordeiro Grant, Lively's founder, said "It's crazy to think about but there are some really large companies out there where their retail and online company are almost treated as a separated business because their systems don't communicate to each other. The biggest, most important part is I can see my business holistically."

Along with Lively, other brands testing the new Shopify hardware include Assembly, Parachute and Nalata Nalata.
Provide a seamless shopping experience
The Shopify Retail Kit connects directly to your other locations and online store. Therefore, you can manage your entire business just in one place. Here are three tools which are designed to simplify your checkout process:

Tap & Chip Reader: Accept contactless and chip card payments, including Google Pay and Apple Pay, anywhere in the store.
Dock: Power and display your Tap & Chip Reader at a comfortable angle that makes payments easy for your customers.
Retail Stand: Declutter your counter and delight customers with a flip stand that simplifies checkout.
Tap & Chip Reader, Dock and Retail Stand are now available in the US. Prices for the individual tools start at $39, and the whole kit costs $229 in the Hardware Store.
You might also like: Amazon Q1 2019 Financial Result
Offer secure, contactless payments anywhere with Tap & Chip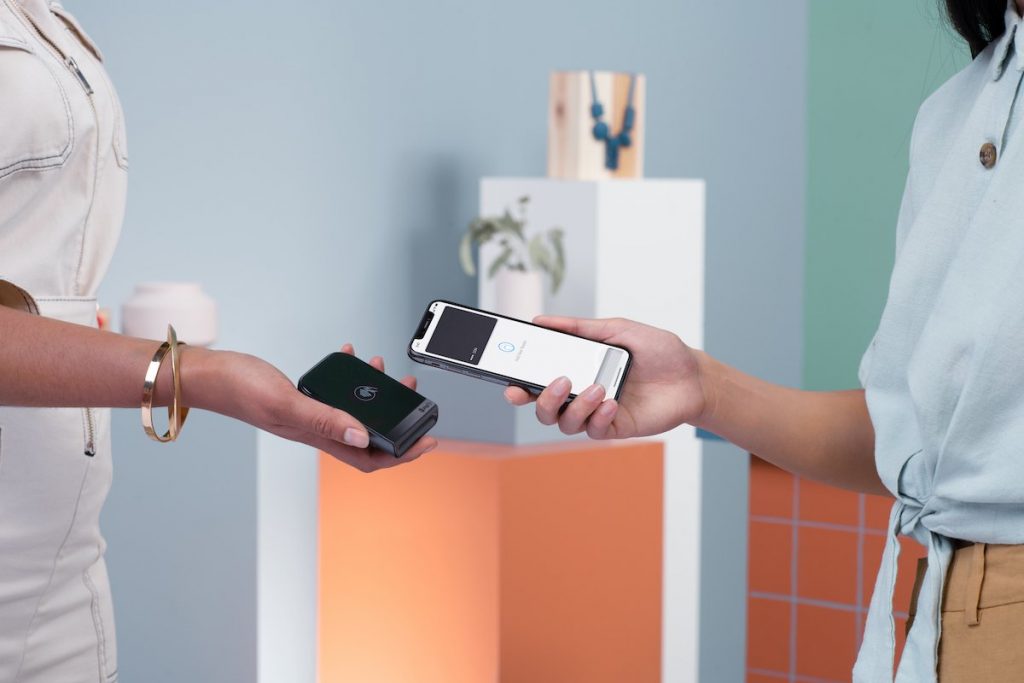 As the winner of a coveted Red Dot Product Design award, Shopify's Tap & Chip Reader is designed with suitable size for your pocket. Therefore you can bring it along wherever you go. This makes the payment process become simpler and more convenient. Moreover, Tap & Chip features a hardy scratch-resistant and shatter-proof case, design details that ensure it can stand up to daily use around your store.

The Tap & Chip Reader allows customer to not only insert their credit card chips into the device but also make contactless mobile payments through Apple Pay and Google Pay. Moreover, you will be able to accept tap-enabled credit cards. With the free Shopify POS app, users can easily connect the reader to phones or tablets, so that your staff can assist shoppers and handle transactions around the store. The card reader is EMV and PCI certified, which makes every transaction secure and keeps you and your customers safe.
Make checkout easier with the dock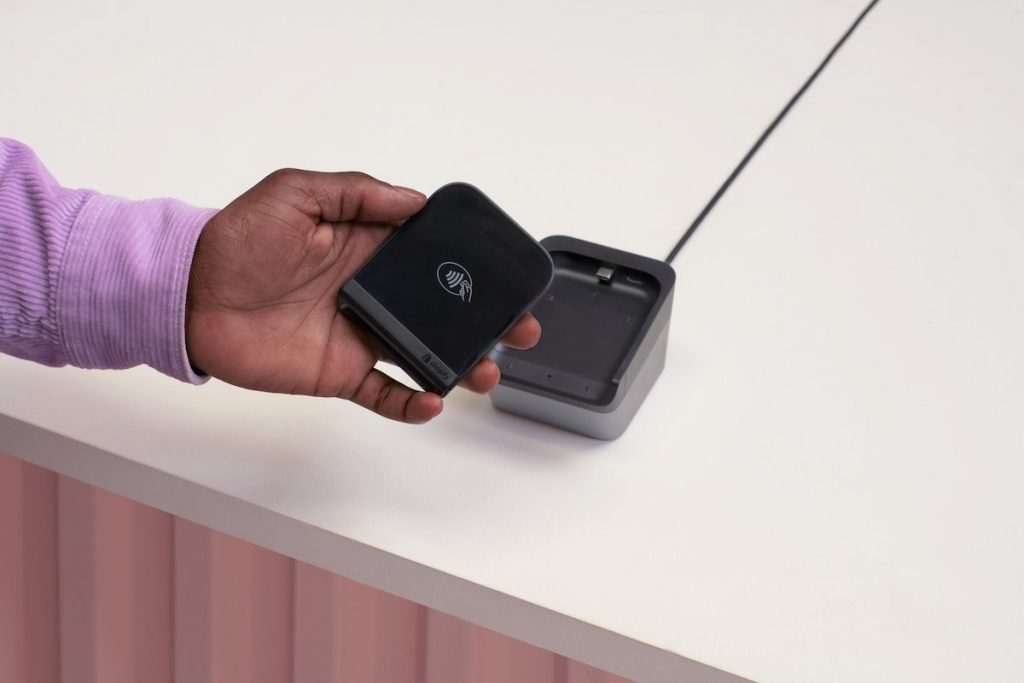 The dock can be used as a place to anchor and charge your Tap & Chip Reader on your counter. However, it's not just a normal docking station. It was designed to move unnecessary friction out of the payment process. And if you want to keep it from shifting out of place, you can attach it to your countertop. Another convenient feature of the dock is that Tap & Chip reader will charge anytime the Dock is plugged in. Therefore, it's always ready to move with you when it's needed.

Power delightful checkouts with the Retail Stand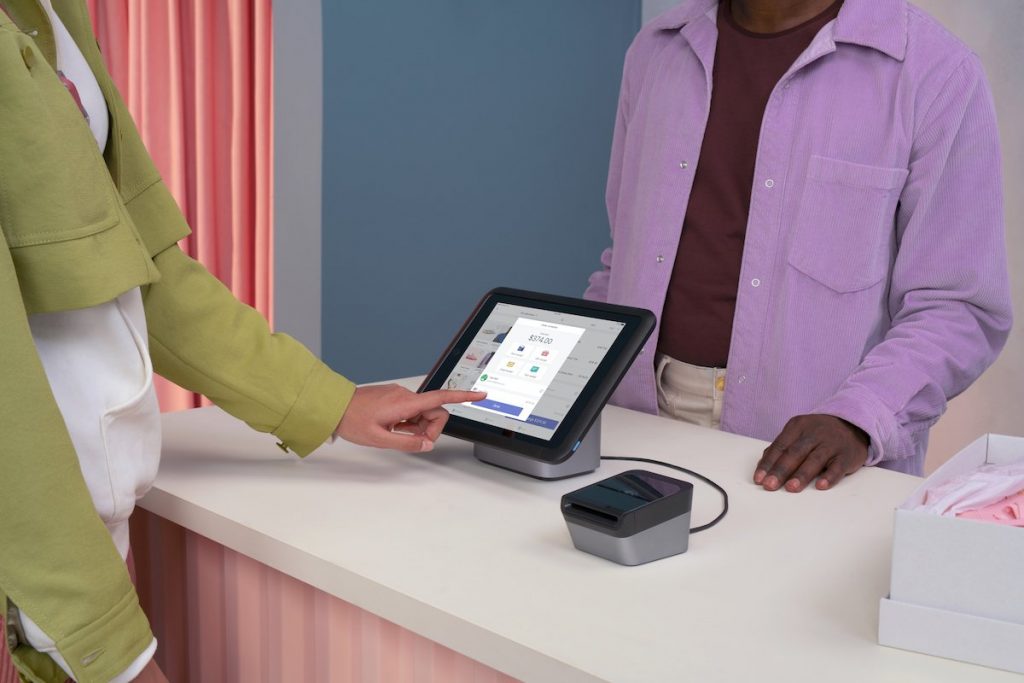 The Retail Stand has magnetic mounting to hold a tablet, which makes it easy for sales associates to use a tablet at checkout. But Shopify Retail Stand is different from other traditional retail stands, you can easily flip the screen to face your customer. With this special feature, it will be more convenient for your customer to review the bill. They also can complete their purchase by themselves on your tablet screen.

It's also designed to take up little space in your countertop by charging your tablet and two other devices at the same time, right from the stand. Specifically, you can use the Retail Stand to power your Dock and also charge your Tap & Chip Reader when you put it in the Dock.

In case you want to go around the store, you can remove your tablet from the base of the stand. Then, you can take it with you. And if you want to return and continue selling, your tablet's case will reconnect easily.
Unify your online and offline business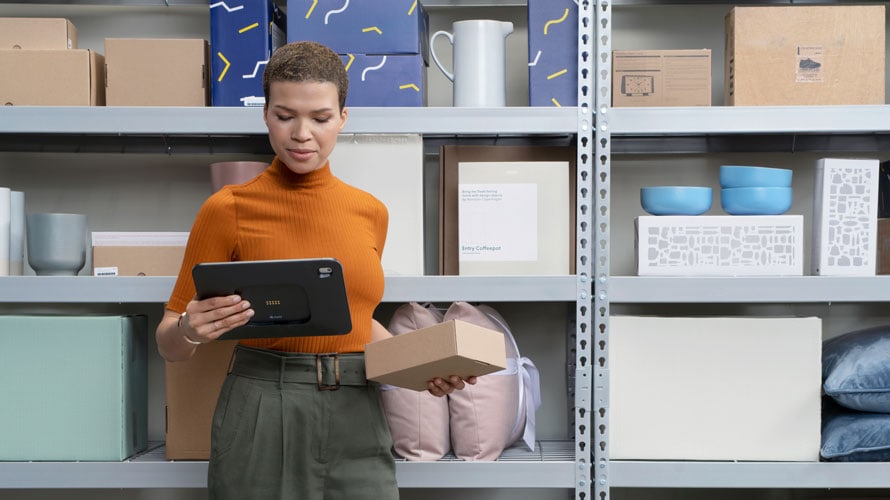 The Shopify Retail Kit is a series of in-store designs that seamlessly integrates with Shopify's existing software. Therefore, if you combine these tools and Shopify's features, it will help you to reduce errors and frustration. Then, you will have more time to focus on your business.

You can track the health of your business through detailed reports, so you know exactly what's selling online and in‑store. You also sell across popular sales channels like Instagram and eBay. Besides tracking inventory, it will help you to deliver a truly seamless shopping experience to every customer whether they buy online or offline. Because of the perfect pair between Shopify hardware and software, all your business data will be in one place. Therefore, it creates a flexible selling. For example, a customer bought online and want to exchange in-store, you can look up their order directly from your tablet. Or if they show up with a gift card purchased online, you can accept it in store.

As a customer, you absolutely want to have simple and fast shopping experience on every channel, either physical store or online store. With the purpose to satisfy those expectations, Shopify has introduced the Shopify Retail Kit. And this seamless solution is available in the US now.


Have Shopify stores? check out the best Shopify Apps to increase sale