India is the fastest growing market for the e-commerce sector. However, it is predicted that the Indian online retail industry may witness a slowdown regarding annual growth rate. We will discuss it in this article, then find out about some trends that will reshape Indian e-commerce in 2019. Let's dive right in.
India is the fastest growing e-commerce market
India has the fastest growing online retail market among top global economies. The country's online retail market saw a compound annual growth rate of 53% for the period 2013 to 2017, according to consultancy firm Bain & Company. India's total e-commerce retail sales in 2017 were estimated at around $20 billion. Moreover, studies have indicated that another $50 billion of online e-commerce could be added with the presence of new users. The rapid growth has been driven by aggressive discount-driven e-commerce marketplaces, advances in delivery infrastructure and increased smartphone penetration and data usage.
A slowdown in India's online retail annual sales
However, according to Forrester, a market research company expert in the online retail industry, there could be a marginal slowdown in India's online retail annual sales growth. This is attributed to a decrease in consumer expenditure and recent government policies. Based on the earlier prediction of an annual growth rate of close to 30%, it is estimated that the figure could fall to 26% in the next four years. It is also estimated that the online retail market would have been $73 billion in size by 2022. The revised growth estimates predict the segment to grow about $69 billion by the same period. This occurs at a time when India's automobile industry is seeing one of the worst slowdowns with a slow flow of car sales.

Advantages of India over China
However, since China is seeing a slowdown too, India would still rank first among the fastest-growing e-retail markets. Forrester predicted that China, which is a bigger market than India, would grow at an annual rate of 13.7%, much slower than India with nearly 26%. "It's a mix of reasons that have led us to revise the estimates. First, consumer spending across segments is slowing down and recent policy changes have caused an additional dent to e-commerce sales," said Satish Meena, senior forecast analyst of Forrester. The revised growth estimates are significant numbers as both Walmart and Amazon are trying to win over India, the only major market outside the US. Alibaba dominates China and Amazon recently announced that it is shutting operations there.
Both Amazon and Flipkart continue to be at a neck-and-neck level on the market share battle with gross sale market share of 31.2% and 31.9% respectively in 2017. This does not include Myntra and Jabong for Flipkart. Both Flipkart and Amazon remain their leading position in the market against each other. A bigger worry for both the US retail giants is Reliance Retail's upcoming entry into the online commerce business, said Forrester.
You might also interested in: Shopify Kicked off Shopify Retail Kit: Unify Your Online and Offline Business
Trends that will reshape Indian e-commerce in 2019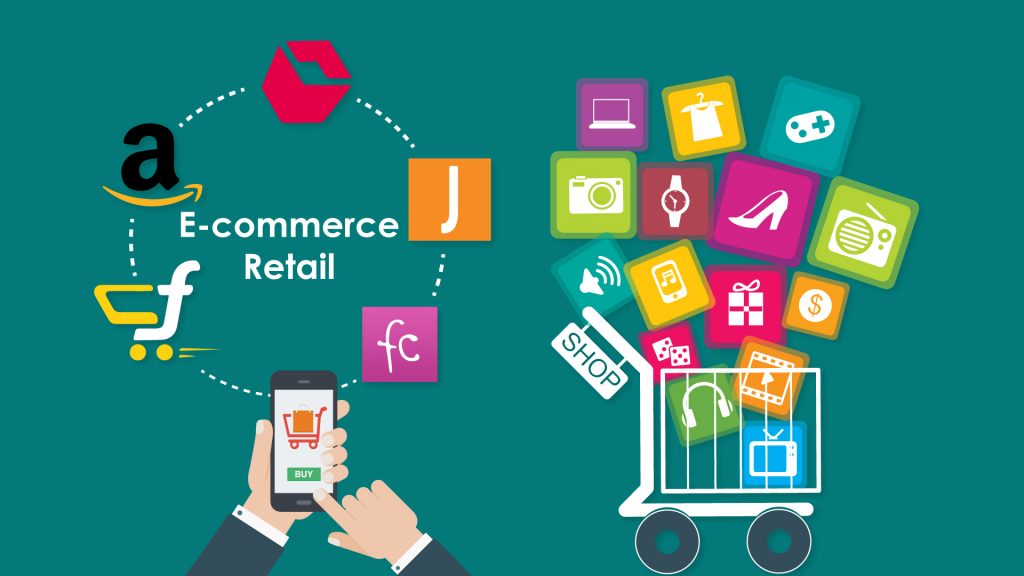 Showing a bit slowdown in annual growth rate, but as a leader in the online retail market, Indian e-commerce industry adopts new trends every year. This ever-expanding space is being estimated by experts at $4.88 trillion by 2020. Here are some trends that will reshape the Indian e-commerce industry in 2019.
"Phygital" Stores
Many Indian retailers are now going "Phygital" (a combination of digital and classic retail). This is mainly driven by brands operating in the fashion and lifestyle category, such as Firstcry and Myntra.
Social Commerce
The penetration and increasing usage of the internet have caused an increase in time spent on social media. A staggering 93% of millennials spend their leisure time on social networks. Online businesses are of course aware of this – we've all seen shoppable posts on Instagram and Pinterest. Social commerce platforms like Meesho are helping people start their own online stores.
Augmenting Businesses With AI and VR
Tech giants like Google and Microsoft are investing heavily in AI related endeavors. In fact, about 85% of customer communications will be managed without humans by 2020. Online eyewear firm LensKart invested about $1 million in US-based Ditto.
Niche E-commerce Verticals
Despite e-commerce majors like Flipkart and Amazon holding 75% market share, there are several online players who predominantly operate as vertical players. These vertical players are serving unique consumer needs, which are customized shopping experiences. Players such as Purple, Panchi, Nykaa, and Wholesalebox are some examples of such brands.


Have Shopify stores? check out the best Shopify Apps to increase sale