On April 15, 2019, OTTAWA, Ontario–(BUSINESS WIRE)– Shopify Inc. (NYSE:SHOP) (TSX:SHOP), the leading multi-channel commerce platform, kicked off its first North American integrated brand campaign, "Let's Make You a Business."
About Shopify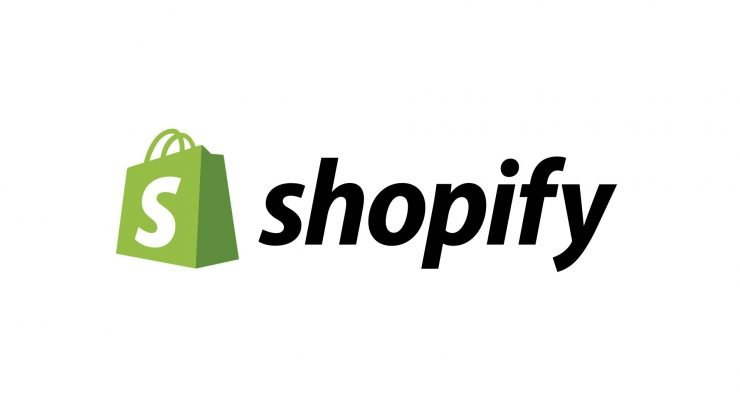 Shopify, founded in Ottawa in 2004, the well-known e-commerce platform. The platform provides merchants cloud and software solutions to turn their ideas into a real business. With Shopify users also can easily design, set up, and manage their store across multiple sales channels. Its channels are mobile, web, social media, marketplaces, brick-and-mortar locations, and pop-up shops. Shopify exists to help merchants every step to build their business from payment to shipping. Moreover, it is designed to adapt to all sizes of business. Therefore, Shopify has become a reliable partner for more than 800,000 business in about 175 countries. It is also working with giant enterprises such as Unilever, Kylie Cosmetics, Allbirds, MVMT, and many more.
You might also interested in: The Importance of Knowledge Management in Marketing
The idea behind the new ad campaign
Through this new campaign, Shopify expects to raise customer awareness. It wants to become the first choice whenever you want to start your own business. Shopify's first brand campaign also aiming to convert a new swath of makers into entrepreneurs.
"The new ad campaign encourages the next wave of independent business owners to turn their big ideas into thriving businesses, and highlights how Shopify provides the trusted tools necessary to start, grow, and manage a business," the company stated in its announcement.

Shopify has no longer done some targeted marketing and focused on specific new products, the goal of the new campaign is to focus entirely on the Shopify brand. Shopify Chief Marketing Officer Jeff Weiser said "We want to be a household name people associate with entrepreneurship,…This is the first big salvo in that attempt. The targeted ads and more constrained product messaging works, but it's not the only way to build a household name. This campaign is an overarching statement about our mission and objectives, which should be evergreen, in that it'll be true a year and five years and 100 years from now."

According to Weiser, Shopify did not do a great deal of consumer research for its first major brand push. Instead, there is nothing on the insight that Shopify is "the difference between making something, and making something into a business.". And it also is the main focus in building an aspirational brand.

"Our brand is all about using commerce to help people pursue independence," he says. "There's a lot of people caught in a corporate wheel, but when they start a business with Shopify and act on their dreams it's a freeing experience for them. Reminding them that they can turn the thing they are sitting on into a business felt like the insight to capitalize on."

Having carried out a similar campaign like Shopify, last year, National Bank also took over vacant storefronts. However, this just was one of many efforts by brands from banks service providers to accounting software companies to get the attention of entrepreneurs.
"Let's Make You a Business"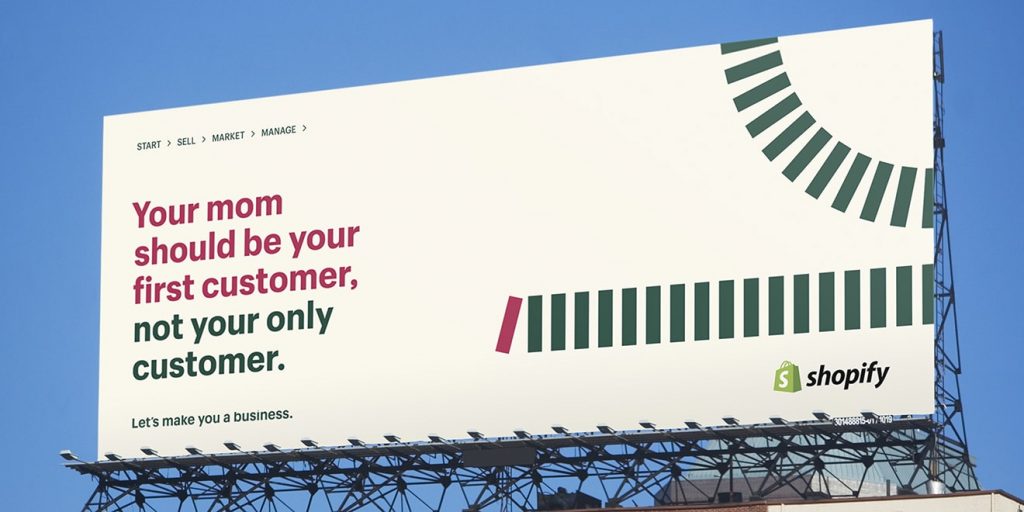 Shopify's "Let's Make You a Business" campaign spans 12 key markets in the US and Canada and will run through mid-July. The outdoor-heavy campaign developed through a partnership between the platform's in-house creative team and agency R/GA will be available in storefronts. With so many messages like "Let's make your mom's 'famous' recipe actually famous," "your mom should be your first customer, not your only customer," and "let's make what you do for fun what you do for a living,", the new campaign inspire people to think big and turn their idea into actual businesses.
"We wanted to bring the Shopify brand to life in this campaign with clever, distinct and inspiring creative." says Jeff Weiser, CMO of Shopify. "The creative features dots which represent milestones on the path of entrepreneurship and the arrows highlight that the entrepreneurial journey is non-linear."
In addition to the out-of-home work above, the campaign also includes TV, digital video, radio, and social advertising.
Even though the campaign is mainly focused on small businesses, Weiser believes that with this campaign Shopify can stand out. Because it has been working with over 800,000 small businesses, helping Shopify exceed $1 billion in revenue last year.

Have Shopify stores? check out the best Shopify Apps to increase sale