Adobe Systems Inc. agreed to buy e-commerce company Magento, a market-leading commerce platform for $1.68 billion. This acquisition was announced on a Twitter post of Brad Rencher, Adobe's Executive VP of Adobe Digital Marketing business:
"Combined with Adobe Experience Cloud, the Magento Commerce Cloud will bring digital commerce, order management, and business intelligence to enable both B2B and B2C shopping experiences across the customer journey."

About Magento Commerce

Magento Commerce is the world's most popular commerce platform. It provides cloud commerce innovation to merchants and brands across both B2B and B2C industries. Besides its top digital commerce platform, Magento also prides itself on a strong portfolio of cloud-based omnichannel solutions. It helps users to successfully integrate digital and physical shopping experiences. Magento Commerce is the #1 provider to the Internet Retailer Top 1000. Moreover, it also is the B2B 300 and the Top 500 Guides for Europe and Latin America.

This isn't the first time that Magento Commerce was acquired. In 2011, eBay, a global commerce leader bought Magento for just $180 million. Until 2015, eBay Inc. sold Magento and it has backed to private again with the help from Permira Fund since then.

About Adobe

Adobe, the world flagship software company, is changing the world through digital experiences. As known as the world's most innovative companies, Adobe is always seeking to diversify from digital media products. It provides merchants and organizations with a wide range of commerce solutions including Adobe Document Cloud, Adobe Creative Cloud, and Adobe Experience Cloud.

Adobe has also purchased Omniture before for approximately $1.8 billion in 2009. Adobe has turned Omniture from a pure 'desktop creative software' business into a big player in digital advertising. Therefore, the lead digital platform thinks that it can do the same with Magento.

You might also interested in: Al & Big Data Expo World Series
How Magento and Adobe benefit from the acquisition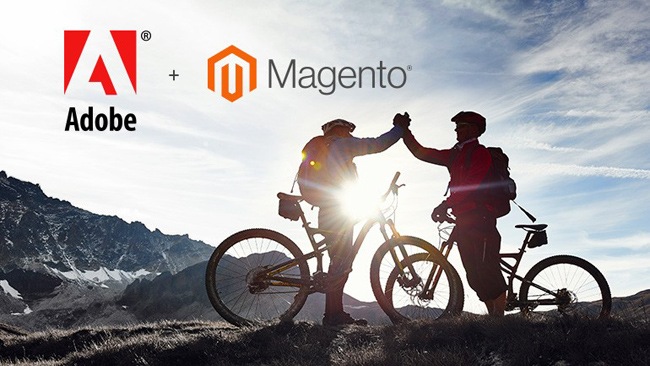 Magento

On the one hand, with Magento, this combination was a giant step in its journey to drive innovation across every facet of commerce. Mark Lavelle, CEO, Magento Commerce said that they stood at the forefront of a tremendous opportunity. Firstly, they can offer even greater value to customers, partners, and developers across their commerce investment. Next, it is a chance to accelerate Magento's product roadmap enabled by the breadth and depth of Adobe's product capabilities and cloud technology. The third benefit is Magento can tap Adobe's global operational scale to accelerate its penetration into new verticals and geographies. Finally, this acquisition harness the creative passion of Magento Community towards its mission of using technology to connect and empower people.

"Adobe and Magento share a vision for the future of digital experiences that brings together Adobe's strength in content and data with Magento's open commerce innovation," said Mark Lavelle, CEO, Magento. "We're excited to join Adobe and believe this will be a great opportunity for our customers, partners and developer community."

Adobe

On the other hand, the addition of the Magento Commerce Cloud gives Adobe a missing e-commerce platform piece that serves both B2B and B2C industries. Magento brings Adobe Experience Cloud digital commerce enablement and order orchestration. Especially it offers both physical and digital goods across many industries, including consumer packaged goods, manufacturing, and the public secto

Brad Rencher, executive vice president and general manager, Digital Experience, Adobe said :"Adobe is the only company with leadership in content creation, marketing, advertising, analytics and now commerce – enabling real-time experiences across the entire customer journey. Embedding commerce into the Adobe Experience Cloud with Magento enables Adobe to make every moment personal and every experience shoppable."

It also helps Adobe compete with companies providing full-featured ecommerce platforms as part of their main service. One of these competitors is Salesforce, which also paid more than 2$ billion to buy Demandware in 2016 for its marketing, sales, and service offerings in the cloud. Salesforce is like a giant monster in this space with over $10 billion in revenue in 2018. Besides Salesforce, there are other formidable competitors such as Oracle, SAP SE. By purchasing Magento, Adobe wants to capture a bigger slice of the digital-commerce industry from these competitors.

In general, this acquisition offers the opportunity for a platform combining the commercial and creative sides of marketing and retail. This platform offers more than the sum of the two separate platforms.