About DMWF Global 2019
Time: 23 May 2019 8:00 – 24 May 2019 17:00
Venue: Business Design Centre, London, N10QH
#DMWF Global 2019 – digital marketing world forum is one of three events in the #DMWF – Conference & Expo World Series Events. It connects the community of digital leaders and creates more networking opportunities for attendees. At this year event, you will find plenty of skills and knowledge that you need to understand and address your future challenges across digital marketing and social media.
The conference covers the latest trends & strategies within Digital Marketing including Digital Marketing Technologies, Virtual Reality, Artificial Intelligence, Influencer Marketing, eCommerce, Content Marketing, Data, Analytics, and Mobile.
Here is the official website of #DMWF Global 2019.
Why attend #DMWF

Come to #DMWF, you will have the chance to listen to over 100 senior level speakers from famous companies like Unilever, Burger King, Microsoft, Facebook… The event will be held across four conference tracks covering the latest trends and solutions within the digital marketing ecosystem. They are Content, Social Media & Influencer Marketing; Data and Disruptive Tech; E-commerce, UX & CX; Digital Transformation and Strategy.
Attendees will have the opportunity to ask questions and receive advice during the Q&A session. Besides, you can attend an exhibition, admiring the latest technologies and innovations from over 60 exhibitors and companies. Moreover, you can grab more dedicated networking opportunities through the official messenger, meeting tool, speed networking, and networking drinks reception. Let's come to DMWF Global 2019 to learn valuable things and get inspired by the greatest people from all over the world.
You might also interested in: The Importance of Knowledge Management in Marketing
Reasons to get involved in DMWF sponsor and exhibition community
#DMWF Expo gives you a unique opportunity to join the industry-leading digital marketing technology event. Through the event, you can gain significant brand exposure and promote your company as a thought-leader alongside top-level speakers to an audience of worldwide marketing professionals.
Thought Leadership
Place your brand as a thought leader within the digital and social media marketing industry by speaking alongside industry experts and high-level brand representatives.
Networking
#DMWF is all about bringing together the best minds from the world of digital marketing. It offers high-level networking across the event with a daily networking breakfast & lunch, as well as an evening drinks reception, private networking LinkedIn group and pre-event tweet chat with the speakers.
Brand Awareness
Associate your brand with the highest level of digital marketing strategy and discussion, and promote your services to our audience, and through a range of leading media partners and press.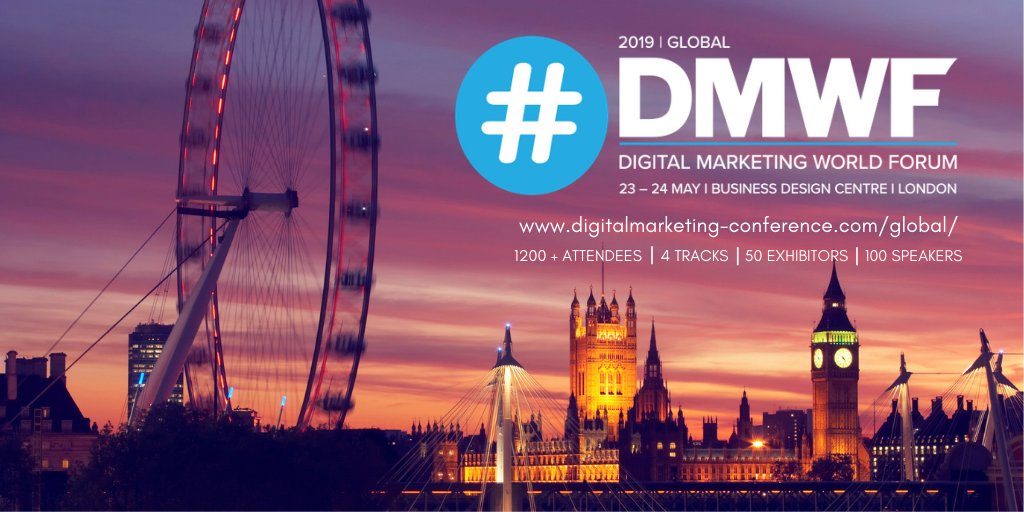 Networking & DMWF Party

The event will bring a networking experience to the #DMWF community. They have already been introduced to brand new networking features at the flagship event in London Business Design Centre. Especially, they include speed networking, a 1:1 meeting service and swanky post-event networking drinks.
Across the 2-day event of this year DMWF, attendees will get involved in different compelling activities. For example, on Wednesday 22nd May, attendees will meet fellow delegates, speakers, and sponsors at the Alphabet Bar. On Thursday 23nd May, there will be time to relax with a glass of wine onsite for all speakers, sponsors, press, and exhibitors after a busy day. Later that evening, attendees can join the community at the Chapel Bar with an exclusive networking party. Don't forget to join the #DMWF community at the trendy lounge of Dirty Martini as a post activity after the party for final networking drinks.

DMWF Global 2019 agenda overview


On day one – Thursday 23 May 2019, attendees will take part in an exhibition and later that evening you can attend the networking event. The exhibition on this day covers Content, Social Media & Influencer Marketing; E-commerce, UX & CX; Digital Transformation and Strategy.
One day two – Friday 24 May 2019, you will attend another exhibition. This exhibition includes activities related to Content, Social Media & Influencer Marketing; Data and Disruptive Tech; Digital Transformation and Strategy.
If you can't attend both days, you still can choose one of them to book. You will also get a discount if you book as a group.
Attending this 2-day event, you will learn from not only real-life case studies but also inspirational keynotes across multiple industry sectors. So don't miss this great opportunity.


Have Shopify stores? check out the best Shopify Apps to increase sale