Let continue with the previous part of how to have full preparation for Black Friday and Cyber Monday.

Two Weeks Before

Take Stock of Inventory

The biggest mistake that retailers can make is that you don't have the items that shoppers are looking for. So how to avoid this embarrassing situation? The only solution is carefully taking stock of what you have and what you need. If you rely on a supplier, work with your suppliers and ensure they're prepared to handle your projected sales for the holiday season.

Because of the increased demand that you'll experience during the holiday season, the goods may be sold out faster than you expected. In order not to be in this situation, you can use forecasting tools, for example, Inventory Planner, to help you better predict sales and to order enough supplies before BFCM. 

In addition to the stock of goods, you also need to check out the inventory of your equipment. Make sure you have enough shopping bags, receipt tape, etc. to run your BFCM sale smoothly. Besides, you need to stock up on packing and shipping materials, which will guarantee you can mail all items sold on Cyber Monday as soon as possible.

Test Your Technology

Some retailers ignore testing their technology regularly, so they may have some unexpected situations like the POS system go out on you. Of course that no one wants this happen, especially in the biggest rush of the season. Therefore, you have to check in with your software vendors to ensure your POS is capable of ringing sales even if the Wi-Fi goes out, and check to make sure you're capable of ringing an unlimited number of sales.

Plan Ads and Ad Copy

This is the time for you to plan the ads and ad copy you're about to run for a sale or promotion. By planning ahead of time, you can put more thought into copy and ad placement.

One thing to remember that bids can be more expensive during the competitive holiday season, it's up to your niche. If needed, you may have to increase your bid price on specific keywords or for certain audiences to increase the visibility of your ads during big holiday sales. If you plan to do paid advertising, it's a good idea to prepare your holiday sale ad budgets as well.

Have you take a look at the previous part Tasks to Do Around Black Friday and Cyber Monday
Take a Look at Your Online Stores on Mobile

Last year, on both Black Friday and Cyber Monday, Shopify stores saw more mobile purchases than desktop purchases. It's predicted that this trend will continue this year. Therefore, retailers should take a look at mobile.

When think about mobile, try to figure out the following questions. What's your store's user experience like on mobile? Is it easy and intuitive to make purchases in your store? Is your website mobile responsive?

It's essential to have a mobile-friendly design for mobile users. Once you have the stores on mobile, make sure to examine your checkout process as well. For Shopify Merchants using Shopify Payments, you can consider options like Shopify Pay and Google Pay, which can provide an added boost to your mobile conversions this year. These tools let customers autofill saved information, reducing the keystrokes or clicks required to make a purchase.

Place Tracking Pixels

If you are run your stores on Shopify and you also run paid campaigns such as Facebook Ads or Google Smart Shopping campaigns, you can set up directly in Shopify. You should place retargeting pixels on your website, then you can remarket to your holiday sale traffic.

To be more clear about how to find and generate tracking pixel code for your website with Facebook Ads and Google AdWords, you can read the following two articles:

To know how to add a Facebook pixel to your Shopify online store, you can take a detail instruction in this blog of Shopify.

Retarget Past Visitors and Customers

After you set up a Facebook Pixel on your store, now you can use it. The special thing when you retarget past visitors is that you will reach people who may have forgotten about your store and wouldn't have checked out your sale.

Also, you can retarget customers that have previously purchased from your store. Of course, it will be easier to reach and market with the existing customers than brand new customers. And shoppers who have already made purchases on your website should be especially receptive to your latest Black Friday Cyber Monday sales.

One Week Before

Update Your Website

After craft all the deals and test your website, it's time for one last update. Make sure that when shoppers land on your page, they will have a clear idea of what your BFCM deals are at first glance. A single and strong sales message, such as "20% off all regular priced merchandise" or "Free shipping on all orders over $75," is more effective than having several different deals advertised all over your page.

Have a Meeting With All The Staff

In order to run a smooth and successful sales holiday, you should meet your team a week out to make sure everyone knows what's on sale so that they can easily communicate that to customers, and also that they know where every item is located. In addition, remind them about your return policy, and also show them how to handle theft and the security protocol.

Reward Loyal Customers

It's believed that it costs five times as much to attract a new customer than to keep an existing one. So let leverage Black Friday Cyber Monday to build relationships with your previous customers and get them to come back.

Email and retarget your previous customers with your best deals. Make them feel that they are special because they can access sales earlier than everyone else or that this sale is only for them. This helps to build up a positive relationship and gives them the incentive to spend their money with your business. It also encourages shoppers to leave their email address before they leave your site.

The Day Before

Send out Last-Minute Reminder Emails

In these specials days, people will scour the Internet for sales, so make sure your email finds its way into their inbox. Remind them about what deals you'll be offering. In the holiday shopping season, there are many frantic shoppers looking for the best last-second deals. Therefore, you can let the shoppers know when the offer expires or you also can tell them when a particular product is going to sell out to create a sense of urgency.

Get Active on Social Media

According to Facebook, from Thanksgiving to Cyber Monday 2017, more than 130 million people took to Facebook and Instagram to boast about deals they found online or share in holiday purchases. Compared to other channels, social media isn't the biggest driver of conversions. However, it's still important to preview what's in store and highlight high-demand items and especially it's free.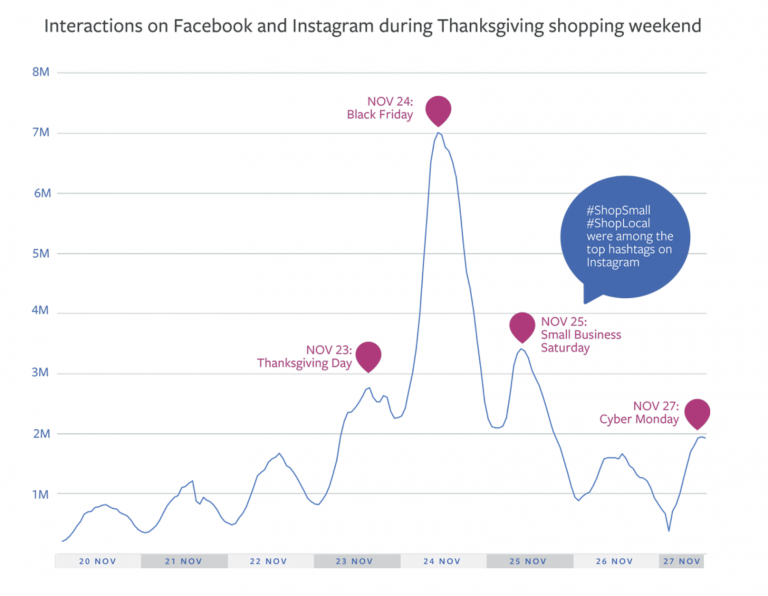 In a survey in the US, nearly 1 in 3 mobile shoppers said that video is the best medium for discovering new products. So you can use Instagram Stories or Facebook live to excite your audience with spontaneous, memorable content.

During the Holiday

Send Abandoned Cart Emails

In Black Friday 2018, retailers in the US face an extremely high rate of average cart abandonment, which was 82%, according to Barilliance. As a retailer, of course, you want to try and keep that number as low as possible. To do that, you can set up targeted abandoned cart emails. In this way, if a customer adds a product to their cart but leaves your store, you can use a compelling email to bring them back to complete their purchase.

Ensure You Have Quick and Courteous Responses

It will be a potentially hectic time for customer support these days. You may lose some sales if your potential customers couldn't get an answer quickly enough. Therefore, try to give a quick response time to provide your customers with a fantastic shopping experience.

However, a quick response is not enough, it also needs to be courteous and respectful to all of your customers. Also, it is worth brushing up on how to handle upset customers effectively and empathetically. All of these things will help you to deliver delightful customer service.

Have a careful, detail and early preparation will be a key to a successful Black Friday Cyber Monday. We hope that this checklist will help you to be in a better position to succeed this holiday season.