After successfully organizing three consecutive years, Shopify Unite, the Shopify annual conference will be held in Toronto, Canada. Let's find out some information about this upcoming event.
Shopify Partner Event
Founded in 2004, Shopify, an e-commerce platform, has grown dramatically. It has become a reliable and helpful website for both merchants and developers. Shopify has some partner event. These events are organized with the aim that partners and developers can meet, learn and cooperate with each other. There are three annual partner summits:
Pursuit: a multi-day, international tour designed to support partners and developers.
Shopify Meetups: Shopify partners can host Shopify Meetup events in their local communities.
Shopify Unite: Shopify partners and developers come together to celebrate shared accomplishments, forge new connections, and ignite the future of commerce technology.
In this blog, we will mainly focus on Shopify Unite event.
You might also like: Shopify App Store Has Updated The New Reply-to-Review Feature
Shopify Unite 2018 Recap
Shopify thought that Toronto is the market where technology has the fastest growth in North America. Therefore, Shopify's annual developer meeting was moved from San Francisco back to Toronto. In this summit, Tobi Lütke, Shopify founder, sharing about Shopify's Canadian history. He also talked about the vision of Shopify partners and the future of commerce. He believed in a future where commerce is more diversified and accessible to more people. Having the same vision with him, Harley Finkelstein, chief operating officer of Shopify, showed the reasons why commerce needs to be shared by as many people as possible. To make this dream come true, they need developers to build an ecosystem together to meet the unlimited demands of customers.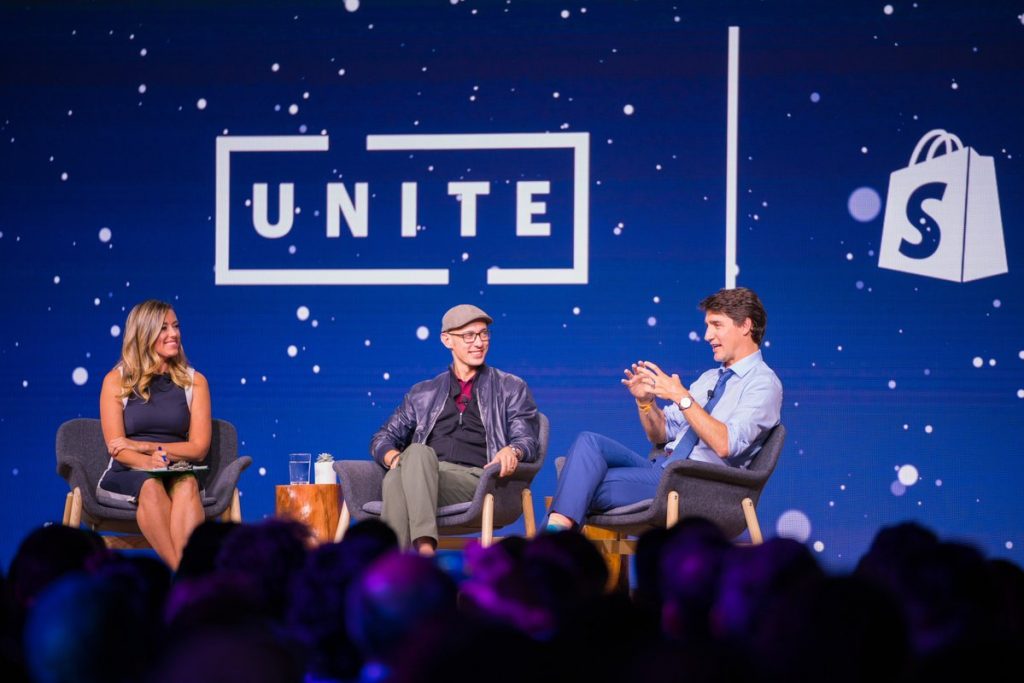 New Features and Improvements for Merchants
Besides sharing their desire, at Shopify Unite 2018, Shopify also introduced its great changes for merchants, and partners. Shopify planned to expand its scale to other countries, such as French, Spanish, Portuguese, Italian, and so on… In addition, six stores would be located in different places and connected to each one. At this event, the new Shopify Fraud Protect feature and The Ping App mobile app were expected to be launched in 2018. In fact, they have actually updated and put into operation. Moreover, in order to help users find a suitable app with their business, Shopify has renewed its visual, especially added a new intuitive classification system and underlying recommendation engine. If shoppers have any difficulty, they can get support from experts with Expert Services Marketplace. The marketplace would allow you to make project conservation with experts and facilitate payment mechanics.

New Features and Improvements for Developers
Not only merchants, but developers also were provided with some new features. These features gave them opportunities to break through the limitation of designed possibility. Shopify kept its strengths and improve its weakness.
The first improvement was offering a GraphQL implementation to developers. However, Shopify would still support Shopify's REST API.
Next, Embedded App SDK would combine with a popular library – Redux. It would help developers find out software errors and fix it by Redux dev tools. Shopify's UI component library for React (Polaris) continued to grow and improve.
Finally, the most impressive improvement was Kit Skill API. From developers' Shopify app's management dashboard, there would be a way for them to create Kit skills. In this year, this virtual employee feature is available for all app developers. In general, Shopify has made a great effort in meeting the needs of merchants and developers.

Shopify Unite 2019

This year, Shopify annual partner conference will still take place in Toronto.
This three-day event attracts thousands of developers and e-commerce experts from around the world. Here are the details:
Venue:
Beanfield Centre 100 Princes' Blvd, Suite 1 Toronto, ON, M6K 3C3, TORONTO / CANADA
Start:
June 18
End:
June 20
Website:
By attending this summit, you can learn more skills from experts in many fields, such as designer, developer, marketer, sales, agency leads and more. With foreign audiences, Shopify can help by providing a letter of invitation to Shopify Unite. You can use it for your visa application. If you want to receive news and announcements about Shopify Unite 2019, you can sign up on the Shopify Unite 2019 Website.

Have Shopify stores? check out the best Shopify Apps to increase sale