In the previous part, we have reviewed about Shopify Price, Ease of Use and Shopify Template and Design. In this article, we will continue to have a detailed review of Shopify's other aspects.

Shopify Features

Checkout

If you using an online store, then you can translate your checkout. Using Shopify, your checkout can be displayed in over 50 different languages, including German, Danish, Japanese, Dutch, etc. Shopify offers guest checkout feature, not to let customers' fear of commitment keep them from purchasing.

For the US and Canada merchants, Shopify Shipping now can calculate carrier shipping rates from DHL, UPS, USPS, or Canada Post. Especially, if you choose the Shopify Advanced Plan, you can display additional third-party calculated rates at checkout. In addition, you will get a discount on shipping rates depending on your Shopify subscription. You also can purchase and print shipping labels from your admin panel.

Besides, Shopify Checkout makes you more flexible to shipping rates. You can choose factors to determine the cost of shipping, whether it's free shipping, a flat rate, a tiered rate, a weight-based rate, or a location-based rate. Not just shipping rates, Shopify also calculates tax rates based on your location and the locations of your customers.

The most amazing feature is abandoned cart recovery. When a customer leaves items in a cart without purchasing, you can automatically send an email to encourage them to complete their purchase. That helps you to boost your sales. Recently, Shopify has updated a new feature that allows you to host checkout on your domain securely rather than redirect your customers to a secure Shopify URL for checkout.
Store Management

In addition to English, Shopify beta version of the admin is also available in the following languages:
Brazilian Portuguese
Danish
Dutch
Finnish
French
German
Hindi
Italian
Japanese
Korean
Malay
Norwegian
Simplified Chinese
Spanish
Swedish
Thai
Traditional Chinese
However, this release is only the beginning and it is a mixed-language version. That means some screens still display in English.

Shopify is continuously adding functionality to the Shopify App. One of these added features is mobile store management, which allows you to purchase and print shipping labels from your phone. You also can use customer accounts to find out more about your customers and to group them by factors such as location, shopping tendencies, and demographics.

Plus, you use Shopify as a virtual terminal to create and edit orders on behalf of your customers. Within your Orders page, you now can send email invoices and manage payment status. Furthermore, Shopify connects with fulfillment services, which provides you a wide range of options such as Fulfillment By Amazon (FBA), Rakuten Super Logistics, and Shipwire.

One of Shopify's specialties is enabling dropshipping. Shopify integrates with Ordoro, Inventory Source, eCommHub (now HubLogix), and more. Shopify also offers a Point of Sale (POS) system for in-person selling. Recently, Shopify added a new retail kit to the mix. The update includes a tap and chip card reader and a retail stand for the iPad.

Have you take a look at the previous part Shopify Review Part 1
Product Management

In terms of product management, you can keep track of all of those products as well as product images with Shopify's inventory management and product category organization features. There are also list variations on your products such as size, color, and material. Shopify Bulk Import/Export feature allows you to facilitate migration from your previous platform or make bulk edits to your catalog.

Marketing & SEO

Shopify offers so many great features for both SEO and Marketing. The first one is SEO Best Practices, which provides you with customizable H1 and the ability to write title and meta tags as well as product tags. Also, the URLs are automatically generated for your store. In this way, your store can be easily found on all major search engines such as Google, Bing, and Yahoo.

In addition, to help you boost your marketing, Shopify creates discount codes and coupons, including BOGO (buy one, get one) discounts to promote your products on different social networks.
For your convenient, Shopify lets you sync your shop with Pinterest, Instagram, Facebook, Twitter, Tumblr, and more. Along with Shopify's own POS system, you also can link your store with a large number of popular online marketplaces.

Also, Shopify comes with an email template, it integrates with MailChimp so you can have more complex email functionality. Or if you want to create a blog that increases brand engagement, you can use the WYSIWYG (what you see is what you get) editor.

Finally, Shopify provides you with built-in analytics to view product reports, export reports, and traffic reports. Recently, Shopify updated its marketing and cross-channel analytics relatively. You also can integrate with Google Analytics.

Shopify Payment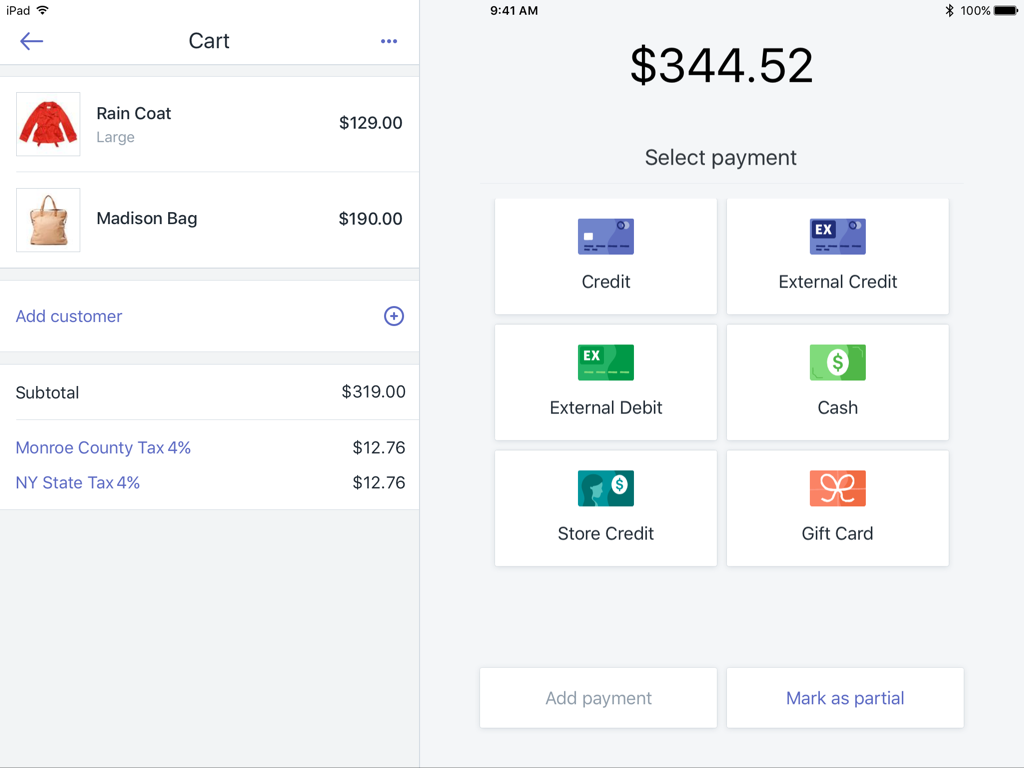 Shopify integrates with over 100 gateways, including Amazon Pay, Authorize.net, 2Checkout, and PayPal. However, Shopify merchants now do not need to use a third-party payment processor to accept payment. Shopify has already created its own payment processor called Shopify Payments (Powered by Stripe). This Stripe-powered gateway is currently available to merchants in the US, Puerto Rico, Canada, the UK, Ireland, Germany, Australia, New Zealand, Singapore, Japan, and Hong Kong. Here are some features of Shopify Payment:

No Extra Shopify Transaction Fees: When using Shopify payments, you won't have to pay the extra 0.5%-2% transaction fees for other payment methods.
Reduced Credit Card Fees: Typically, Stripe and other similar payment facilitators charge 2.9% + $0.30 for online transactions. With Shopify Payments, those rates are reduced as you move up the subscription ladder. In-person processing rates also decrease.
Fraud Protection: Shopify Payments provides its suite of advanced fraud and chargeback prevention features with some additional fees.
Saved Detail: Merchants can save their checkout information across Shopify websites, which makes your checkout process fast and leads to a higher conversion rate.
Customer Support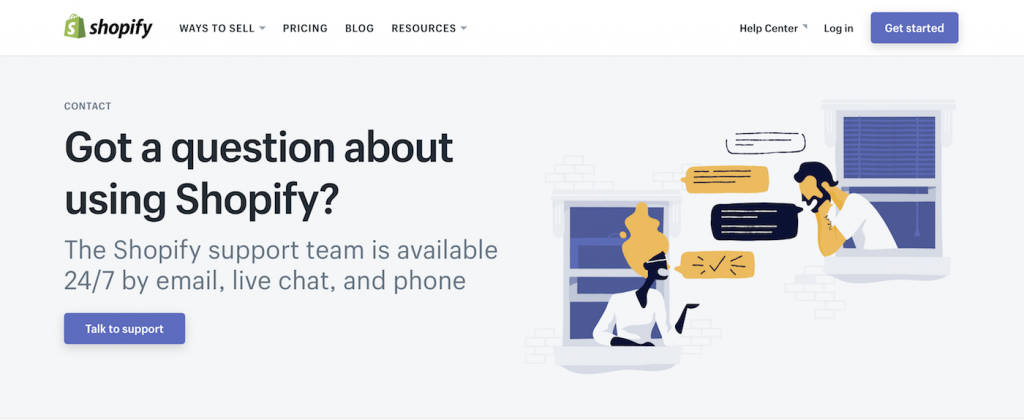 Regardless of which pricing plan you decide on, the company has 24/7 full customer support. In case you have any problems, you can contact them through email, live chat, and phone. There are some other ways to locate the information you need on your own, such as forums, tutorials and FAQ's.

If you are the beginner, Shopify has created something called Ecommerce University. It gives you eBooks, videos, and guides, with the idea of helping you learn the ins and outs of running your own web store. Here is our general review of Shopify. If you are looking for a suitable platform for your online business, we encourage you to try 14-day free trial and we think that it will not let you down.