In the previous part, we have given you some information about Shopify's financial and operating performance, including its first-quarter financial and business highlights.
Similarly, his blog will continuously provide you with Shopify's first-quarter 2019 financial result
Q1 2019 Financial Results Conference Call
Shopify's management team has held a conference call to discuss its first-quarter results on April 30, 2019, at 8:30 a.m. ET. An archived replay of the webcast is available on here. Moreover, if you want to have the transcript of the call, you can visit here.
Shopify's First-Quarter 2019 Interim Unaudited Condensed Consolidated Financial Statements and Notes and its First-Quarter 2019 Management's Discussion and Analysis are available on Shopify's website at www.shopify.com and will be filed on SEDAR at www.sedar.com and on EDGAR at www.sec.gov.
You should also take a look at the first part of this blog: Shopify Announced Its Financial Results for The First Quarter of 2019 (Part 1)
Non-GAAP Financial Measures
Shopify's consolidated financial statements are prepared and presented in accordance with the United States generally accepted accounting principles (GAAP). Besides GAAP, Shopify uses non-GAAP measures, which should be considered as a supplement to GAAP measures. Non-GAAP financial measures provide additional information making it easier to assist investors to understand Shopify's financial and operating performance.

Adjusted operating loss/income, non-GAAP operating expenses, adjusted net loss/income and adjusted net loss/income per share are non-GAAP financial measures that exclude the effect of share-based compensation expenses and related payroll taxes.

Management uses non-GAAP financial measures internally to make financial decisions as well as operation operational decisions. Non-GAAP financial measures are used as a means to evaluate period-to-period comparisons. Therefore, Shopify believes that with non-GAAP measures, investors will get more useful information about its operating results. This measures also give an overall understanding of past financial performance and future prospects. In addition, non-GAAP measures allow for greater transparency with respect to key metrics used by management in its financial and operational decision making.

However, according to U.S GAAP, non-GAAP financial measures are not standardized. For this reason, it may not be comparable to similar measures presented by other public companies.

See the financial tables below for a reconcilement of the GAAP and non-GAAP measures.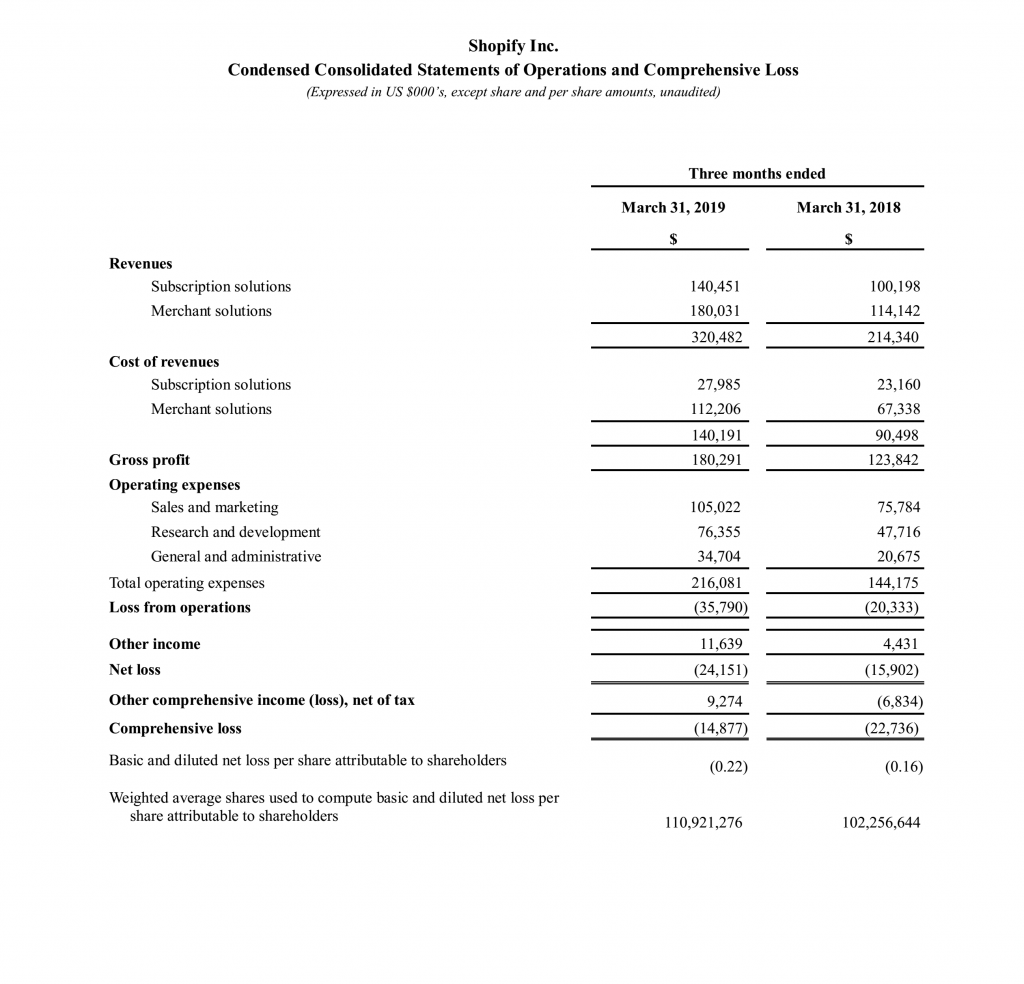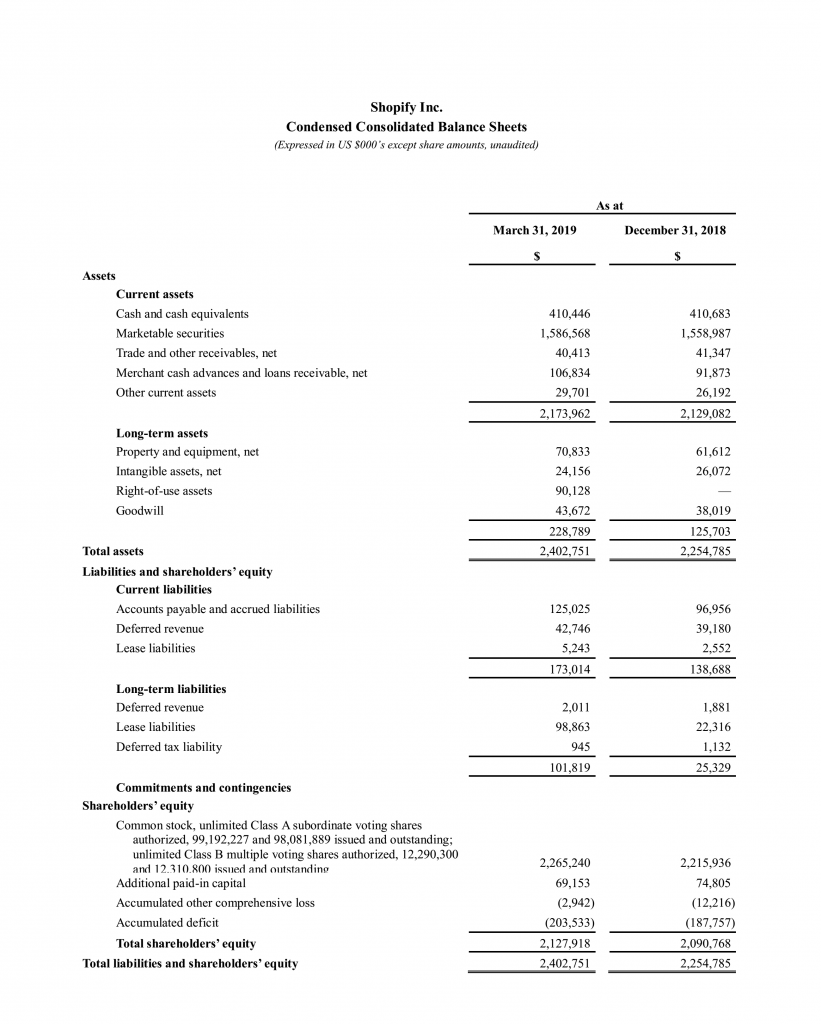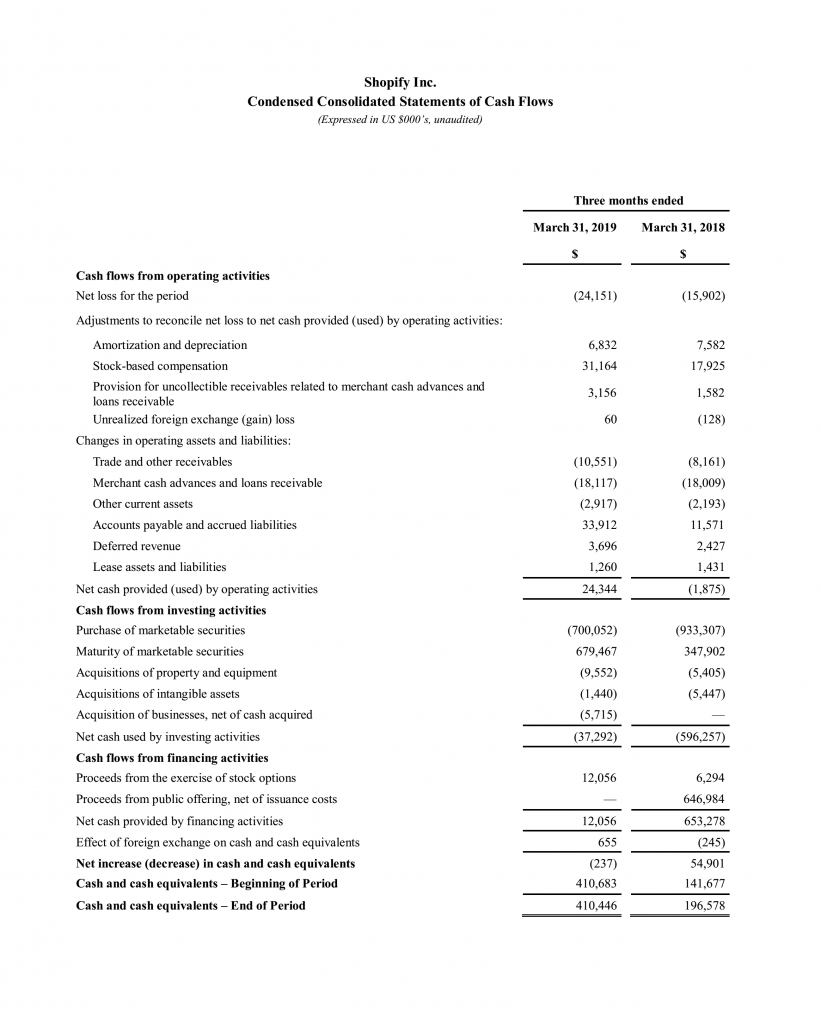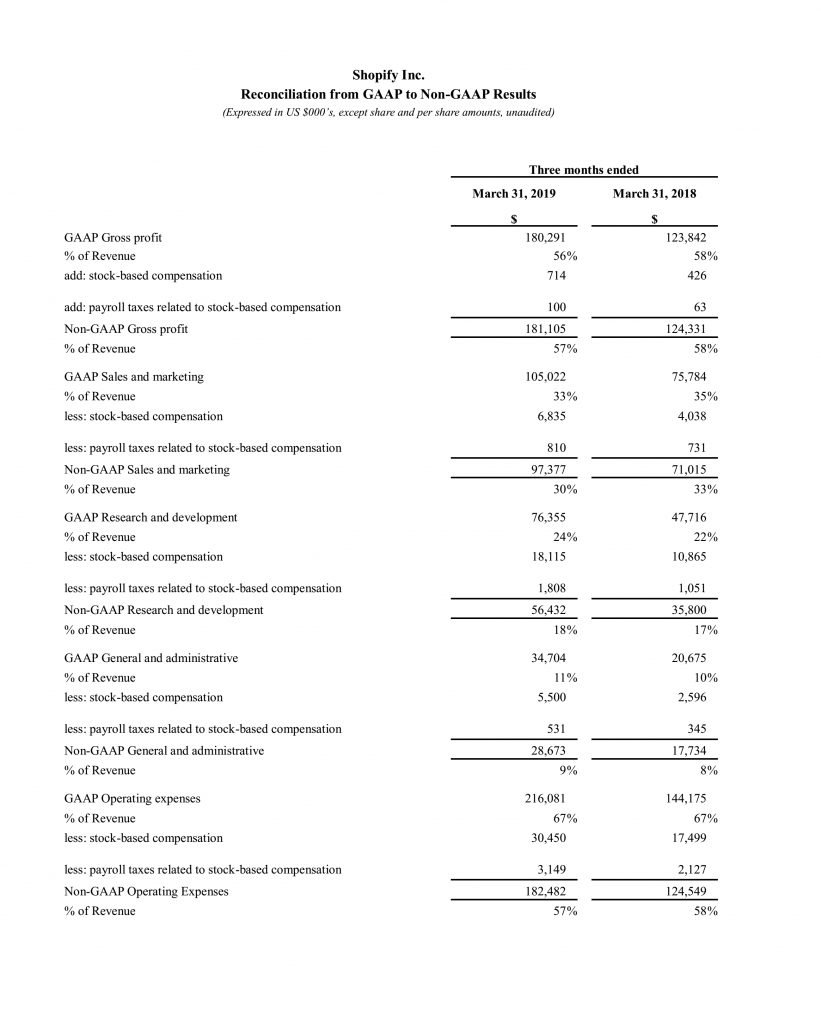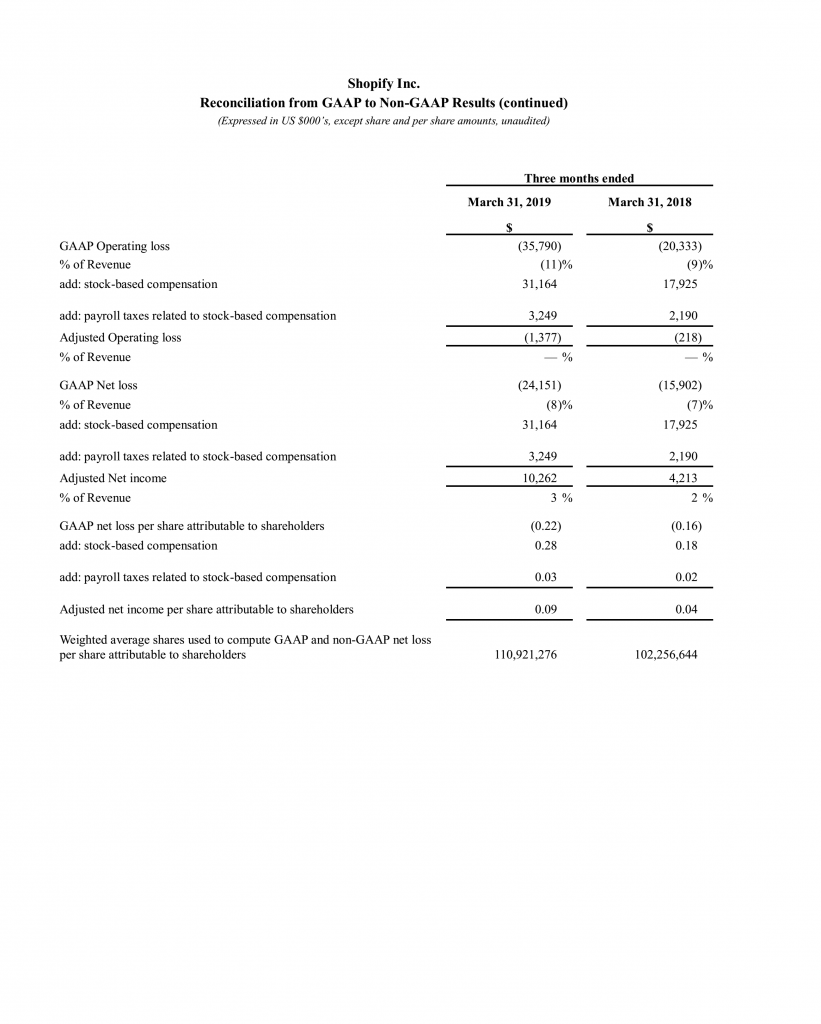 Financial Outlook

The financial outlook is forward-looking information in the sense of current securities laws and based on a number of assumptions and subject to a number of risks. However, actual results can be materially changed by many factors, including certain risk factors, and many factors are beyond Shopify's control, which are:
merchant acquisition and retention
managing Shopify's growth
Shopify's history of losses
its limited operating history
Shopify's ability to innovate
disruption of service or security breach
payments processed through Shopify Payments
Shopify's reliance on a single supplier to provide the technology we offer through Shopify Payments
the security of personal information it stores relating to merchants and their customers, and consumers with whom we have a direct relationship
evolving privacy laws and regulations, cross-border data transfer restrictions, data localization requirements, and other domestic or foreign regulations
potential inability to hire, retain and motivate qualified personnel
international sales and the use of Shopify platform in various countries
other one-time events and other important factors disclosed previously and from time to time in Shopify's filings with the U.S. Securities and Exchange Commission and the securities commissions or similar securities regulatory authorities in each of the provinces or territories of Canada.
The following prior statement was made by Shopify and all the number in this statement are approximate.
For the full year 2019, Shopify currently expects:

Revenues in the range of $1.48 billion to $1.50 billion
GAAP operating loss in the range of $130 million to $140 million
Adjusted operating income4 in the range of $20 to $30 million, which excludes stock-based compensation expenses and related payroll taxes of $160 million
For the second quarter of 2019, Shopify currently expects:

Revenues in the range of $345 million to $350 million
GAAP operating loss in the range of $46 million to $48 million
Adjusted operating loss4 in the range of $6 million to $8 million, which excludes stock-based compensation expenses and related payroll taxes of $40 million

Have Shopify stores? check out the best Shopify Apps to increase sale