IKEA has brought online shopping to another level with the launch of a new app. This app enables customers to shop interior items in augmented reality. The company originally launched an AR app, also known as IKEA Place, in 2017. It allowed customers to see how more than 2,000 items would fit into their homes. However, they could not shop from it. With this new app, customers no longer need to visit an IKEA store but still can purchase furniture directly from the app in AR. This article will give you an insight into this new app as well as threats and opportunities that IKEA is facing in the era of digital technology.
IKEA launched the new app
IKEA has launched a new app to allow clients to shop remotely for products through which they can visualize in the context of their own homes. This app helps reduce the need to travel to IKEA's vast network of self-service, out-of-town stores.
The Swedish-based company has been experimenting with AR for a while. It launched a separate AR app, IKEA Place, back in 2017. That allowed customers to see how an item of furniture would fit in their home or space. IKEA Place has proved to be effective in terms of both sales and marketing value. However, there was no option to buy the actual products in the app.
With this new app, customers can visualize the products in their home before directly buying them in the app. The first two countries to install this new app are France and the Netherlands. And it will be rolled out in IKEA'S top eight markets, including Germany, the United States, and China by the end of the year.
The new app is supposed to make shopping easier than ever. "It is a completely new experience," Barbara Martin Coppola, a chief digital officer at IKEA, told Reuters in an interview. "The app is combined with the store experience, with the online experience."
How this new app works
By inputting room dimensions and choosing from different tastes and life stages, the new app will allow users to visualize how their homes could be furnished with IKEA products. They can then order those products through the app.
IKEA's main app covers its full range but it still shows products in isolation, and customers can only add items to a shopping list for use during a store visit. Remote shopping can only be done through the IKEA website.
The AR features do not just focus on shopping at home. IKEA starts to move to smaller, city-center focused stores, such as its Planning Studio store in Tottenham Court Road. Therefore, the app will allow people in an IKEA store to see a fuller range of products than is possible in a smaller space. For example, if there is a particular chair a shopper likes, they can point their phone at it and see other textures and colors available, or to see it in the context of a room or alongside similar products in the same range.
You might also like: Uber Reports The Financial Results of The First Quarter of 2019
IKEA's rivals are also taking advantage of AR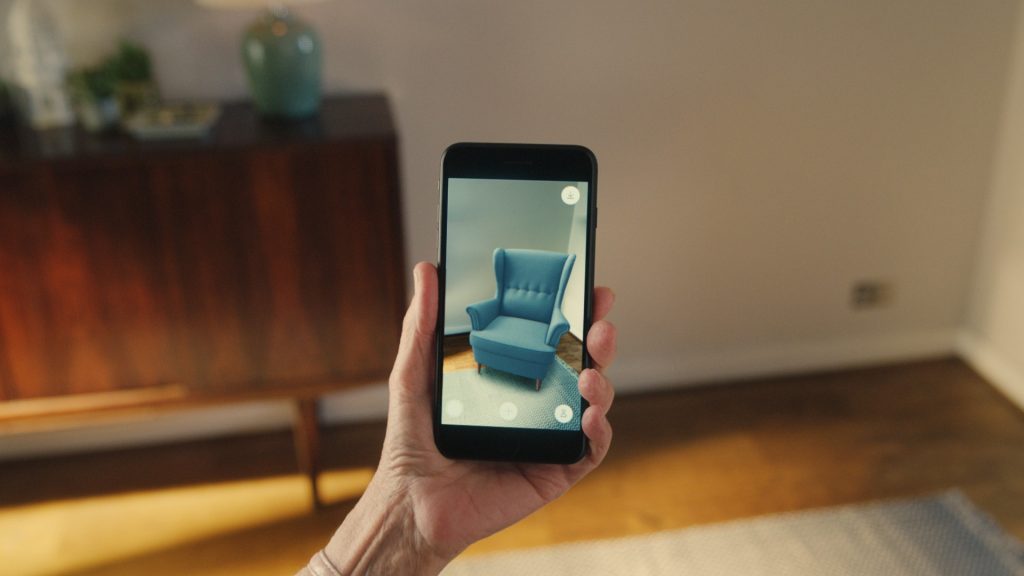 Homes interiors and furniture e-commerce have been led by a few select players, such as MADE.com and Swoon. And IKEA is hoping to keep up with these competitors.
Fast-growing British online furniture retailer MADE.com last month launched a new interior design service. This new design uses artificial intelligence to recommend products. It also uses 3D technology to show what the furnished room will look like. Moreover, the company infuses tech in all of its offerings, whether shopping online or in store.
Nike is also using the tech to digitally measure customers' feet so they never buy the wrong-sized trainer again.
Other retail companies are experimenting with AR-enabled shopping. For example, Williams-Sonoma bought 3D imaging firm Outward in 2017. Another example is U.S. startup Modsy rising $37 million this month to expand in a 360-degree room and furniture imaging.
IKEA adapted to the growth of e-commerce
IKEA has stepped up efforts in response to the rise of e-commerce since Jesper Brodin took over in 2017 as chief executive of the Ingka Group, which owns most IKEA stores. The company has been trialing city-center formats. It includes a dedicated kitchen showroom in Stockholm, a London store offering personalized planning for home renovations, and one for living room furniture in Madrid. Along with the growth of e-commerce, IKEA could reconfigure its out-of-town sites, incorporating what they know from its downtown pilot stores and potentially utilizing more of the space as dedicated warehouses to prepare online orders.