Today whenever and wherever you go on the Internet, you will see plenty of ads. Among these ads, there are some ads that confuse and scam users. In a recent report on TechCrunch, Facebook has taken action to protect users from scam ads.

Report scam ads tool

How does it work?

Facebook has implemented a tool on its platform which allows users to report a scam. The feature can be accessed by clicking the three dots in the top-right corner of each ad on Facebook, then selecting 'Report ad,' then 'Misleading or scam ad' and finally 'Send a detailed scam report.' When a scam ad report has been filed, the feature will alert a dedicated internal ops team at Facebook. Then, they will review the report and remove violating ads.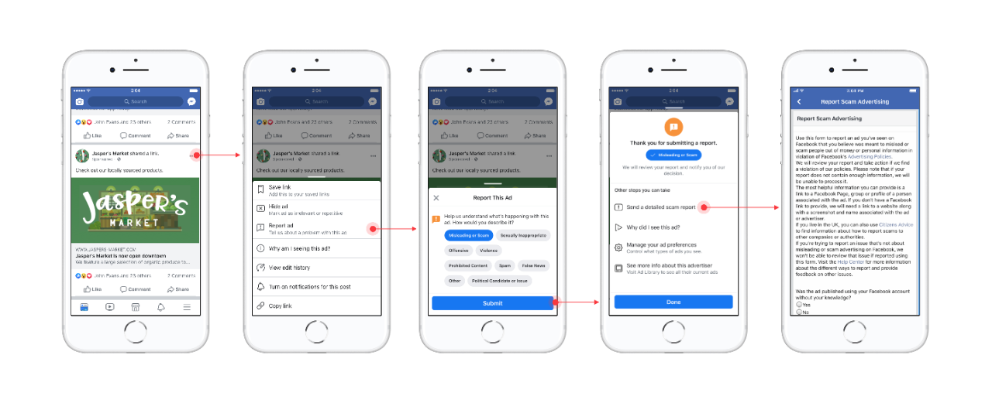 The story behind

The new consumer safety feature stemmed out after a consumer advice personality, Martin Lewis filed a lawsuit. A bunch of scam ads has misappropriated his image on social media to trick users into parting with their savings. As a result, users cheated on these would blame Lewis, which drastically affected his credibility.

It was not until earlier this year that Lewis announced to withdraw his case because of Facebook response. The company said that it would add the scam ad reporting feature. This new feature now is just available in the U.K. Facebook also establishes a local team to monitor ad trends for dubious activity.

At the press conference in January, Lewis also criticized Google for being less responsive to the issue. Especially, he complained the company does not have easy ways for users to report scam ads running on its networks.

When TechCrunch contact Google for a response, a Google spokesman told them: "We already have a tool where anyone can report ads – and they are reviewed manually by our Trust & Safety team. With regards to donation, we are looking forward to chatting to Martin and the team to learn more about the initiative at this point."

You might also interested in: 7 Affiliate Marketing Trends in 2019
Facebook partners with Citizens Advice

Addition to launching the new feature, Facebook has also partnered with consumer advice charity Citizens Advice. The company donated £3 million worth of support in cash and Facebook ad credits to fund the setting up of a Citizens Advice Scams Action (Casa) service. This service will assist those who have been targeted by online scams.

"Prevention is also key. Our £3 million donations to Citizens Advice will not only help those who have been impacted by scammers but raise awareness of how to avoid scams too." Lewis said. He added, "We've tripled the size of our safety and security team to 30,000 people and continue to invest heavily in removing bad content from our platform."

Having the same point with Lewis, Gillian Guy, chief executive of Citizens Advice, also said: "This project means we can not only support people who have been targeted but also raise awareness of what to look out for to help prevent online scams happening in the first place. Citizens Advice Scams Action will work alongside the free and impartial help we already offer to anyone who needs advice — whoever they are, whatever their problem."

Other Facebook updates

Recently, Facebook lets its users know more information about why they are seeing an ad — if they click through the menu to the option "why I am seeing this ad?"

Users criticized Facebook for displaying advertises that are extremely general. According to TechCrunch, it seems to make the feature appear more like a smokescreen than a genuine step toward ad targeting transparency. To solve this problem, Facebook is now showing ads that match with your interest. It also said it will be "clearer where that information came from (e.g. the website you may have visited or Page you may have liked)."
In addition, Facebook also launched the Ad Preferences menu to provide its users with more information about businesses and third parties that upload lists containing their personal data. For example, it gives users email addresses or phone numbers of these businesses.

"This section aims to help you understand the third parties and businesses who have uploaded and shared lists with your information," the company writes. "In this section, you'll see the business that initially uploaded a list, along with any advertiser who used that list to serve you an ad within the last 90 days."

Have Shopify stores? check out the best Shopify Apps to increase sale