Android users in India can now make instant peer-to-peer (P2P) payments via Amazon Pay. The new service allows customers to make direct payments from their bank account to local stores or to Amazon delivery associates at the doorsteps by scanning UPI QR codes with the app.
How the service works
The service is built on the Indian government-backed UPI platform. The interface is regulated by the Reserve Bank of India. It works by instantly transferring funds between two bank accounts on a mobile platform. With the Amazon Pay service, customers can carry out P2P payments in many ways. For example, they can choose a contact from their phone's address book, enter their UIP ID or the recipient's bank account.
After contact is selected, Amazon's app will automatically detect whether it is registered for Amazon Pay UPI or not. If yes, the bank transfer will be enabled. If not, the customers will have an alternative. They have the option to pay through another BHIM (Bharat Interface for Money) UPI ID or the contact's bank account.
When the money transfer occurs, both the customer and the recipient receive notifications through in-app notifications and SMS alerts.
Benefits of Amazon Pay UPI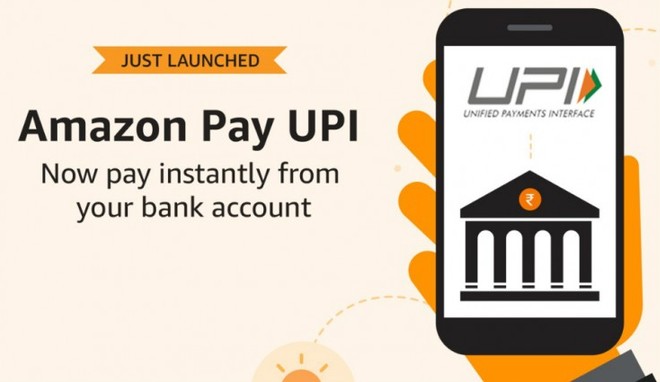 Using Amazon Pay UPI, customers can settle bills and other expenses with friends. They can easily lend or return money to family, pay for services and more.
Amazon Pay also allows customers to make repeat payments more easily by displaying their recent transactions. Moreover, all the payments are secured through multi-factor authentication involving the customer's phone number, SIM details, and the UPI PIN, says Amazon.
The vision of Amazon launching the new service in India
The online giant is a late entrant into the Indian P2P market. It will face competition from current leader Google Pay, and also Paytm and PhonePe. Facebook-owned WhatsApp has also rolled out a service to a limited number of Indians.
However, Amazon claims that Indians still lack a simple and intuitive way of making money transactions. The current experience is "sub-optimal due to lack of standard user interface, mandatory cool off restriction for new contacts and multiple login steps," claims the firm.
"Our goal is to make Amazon Pay the most trusted, convenient and rewarding way to pay for our customers," said Vikas Bansal, director of Amazon Pay, in a statement. "The customers trust their Amazon app and we continue to expand payment use cases directly on the app. With this launch, we have the largest selection of shopping and payment use cases on the Amazon Android app which provides added convenience and control to our customers."
The move will also support Amazon in its impending battle with Reliance Industries Limited (RIL) in the region. According to a report by the Business Standard, Amazon has launched a program to manage the B2B inventory supply and management of a number of neighborhood mom-and-pop stores (aka Kirana stores) recently. It allows retailers and store owners to order online and receive products with the next-day delivery.

You might also interested in: Shopify Announced Its Financial Results for The First Quarter of 2019
Retail opportunity
The program will be rolled out across India if the pilot succeeds.
There are around 12 million Kirana stores in India, accounting for 90 percent of retail business in the country. However, only 3 percent are tech-enabled. That represents a big opportunity for Amazon, as the stores themselves begin to implement technology to compete with online grocers.
Amazon Pay's P2P feature can help to execute the retailer's larger plan, bring India's cash-based customers and merchants into the digital age. It simultaneously works to bring e-commerce to the region as well as cashless payments and other services to neighborhood stores.
Other Amazon's programs

Along these lines, Amazon also claimed in March that it was rolling out the Amazon Smile code – a QR code that's scanned to pay for items – to physical stores like Shoppers Stop. Amazon's various payment initiatives can help create customer loyalty to the Amazon brand and build new habits among consumers.
Amazon is getting a late start when it comes to P2P payments in India. Its rivals already support P2P to customers with Google Pay in the lead. However, with the launch of P2P, Amazon is encouraging customers to use its service by offering up to Rs 120 cash back by sending money through UPI.