CNBC reports that RBC Capital thinks that there is a quickly growing but overlooked part of Amazon's business, namely, Amazon Business.

"We believe Amazon Business has largely been ignored by investors," RBC Capital Markets analyst Mark Mahaney said.

He also predicted that Amazon Business will reach $31 billion in revenue by 2023 as sales surge to $52 billion over that same period.

Amazon Business Serves a Large Group of Customers

Amazon Business serves a variety of customers from manufacturing factors to non-industrial customers such as schools, colleges, and hospitals. Specifically, this unit of Amazon sells to over 50 of the largest 100 hospitals, 40 of local governments serving the 100 biggest populations, and 80% of the 100 biggest educational institutions.

"With gross merchandise volume (GMV) over $10 billion and growing faster than Amazon's retail and Amazon Web Services segments, it continues to gain market share while also triggering seismic changes to business models across the industrial distributor landscape," Mahaney says.

One of the reasons that lead to the increasing sales of Amazon Business is because Amazon is doing a good job adding features that B2B sellers, in particular, find useful, RBC says.

Amazon offers its customers with some exclusive products and features tailored businesses. Mahaney writes, "These include business-only pricing and selection, unique search, a tailored browse and shopping experience, single or multi-user accounts, guided buying, spend visibility, tax-exempt purchases and Amazon Business customer support, to name some."
What Does This Mean to Others?

Also, in the research note, Mahaney writes that the rise of Amazon Business will cause more stiff competition for distributors of industrial and maintenance, repair and operations (MRO) products, especially W.W. Grainger Inc. and a few others.

Grainger is similar to Amazon Business, it also provides a B2B marketplace for a large variety of customers. The company has $11.2 in 2018 total sales, topped Industrial Distribution's Big 50 List for a second-straight year in 2019.

"We continue to believe Grainger still has the Amazon bullseye on its back," Mahaney says in his research note. "We see Grainger as the most vulnerable industrial distributor given its exposure to profitable small and medium customers and its retail/consumer-oriented bent with just a roughly $300 average ticket—this is exactly where Amazon Business is focusing."
You might also like Shopify Merchants Sold $2.9 Billion in Worldwide Sales over Black Friday/Cyber Monday Weekend
The Impressive Growth of Amazon Business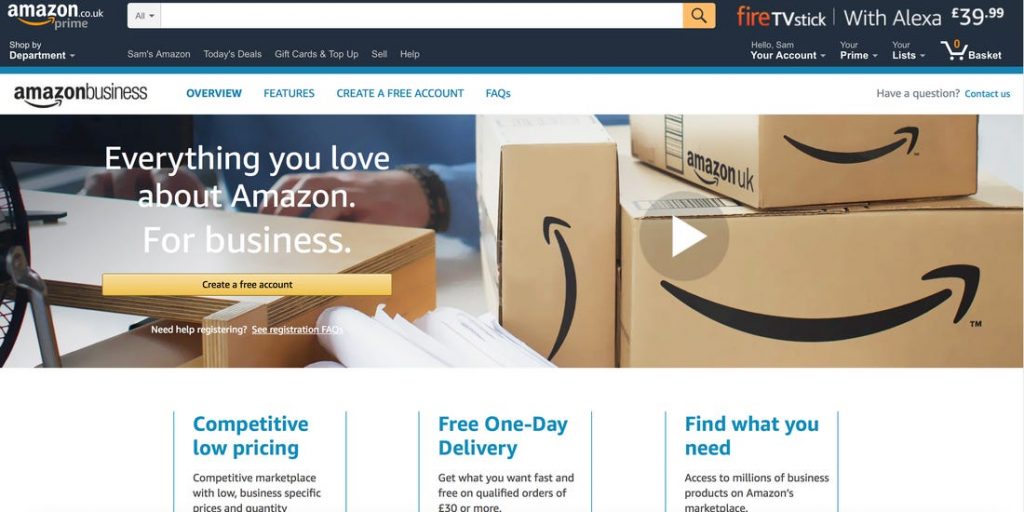 Since Amazon launched the unit in 2015, now Amazon Business live in nine countries. These countries include the United States, Germany, United Kingdom, India, Japan, France, Italy and Spain, and Canada.

According to CNBX, Amazon Business reached $1 billion in sales in its first year (2015). Plus, last year, it reached over 2 million customers around the globe, along with more than 200,000 business sellers that comprise hundreds of millions of products.

Mahaney estimated that Amazon Business was growing at a 115% 3-year compound annual growth rate (CAGR) from 2015 and 2018. This rate is much higher than its retail e-commerce business, at 28% and as well as cloud unit Amazon Web Services (AWS), at 48%.

Amazon Business Will Surpassing $52B in GMV


With such fast growth, RBC says that Amazon Business will reach $31 billion in revenue and $52 billion in gross merchandise volume by 2023. As the B2B ecommerce market is estimated to reach $1.8 trillion annually in the U.S. in about three years, Amazon Business could account for 0.5%.

In addition, Amazon also is running Amazon Business in a highly profitable way. The annual operating profit of Amazon Business estimated to grow from $600 million in 2018 to $3 billion by 2023, Mahaney adds.

"We believe Amazon is well-positioned to gain market share," Mahaney added.

RBC also estimates the total addressable B2B market is $67 trillion, nearly three times the size of the global retail market. For this reason, the company has to face a very large, underpenetrated, fragmented and inefficient market.

"Amazon has the technology platform, logistics prowess, selection, and a large network of sellers and buyers that we believe will enable the company to grow its business segment faster than the overall retail segment for the foreseeable future," Mahaney said.

Have Shopify stores? Check out the best Shopify Apps to increase sales.