When you hear about the Singles Day, it may bring a lonely feel, but in fact, it's not. It is the unofficial Chinese shopping holiday, now it's also is the biggest shopping day on the planet. This year, the Chinese ecommerce giant Alibaba set a sales record on Singles Day.

The Biggest Shopping Day in The World

It was the 11th edition of the annual Singles Day event, which is also called as Double 11. During the 24-hour period, Alibaba offered huge discounts on a wide range of products from smartphones to craft beer to health care packages.

"Yesterday night, I was browsing past 11 p.m. Many of my friends around me were staying up till 2 a.m. to buy stuff," said Zhu Yirun, a graduate student in Beijing.

More than half a billion people from a number of countries participate in the event. The Chinese one-day festival is much larger than Black Friday and Cyber Monday. The five-day Black Friday clocked less than $25 billion in sales last year, compared to $30.7 billion of Singles Day last year.

Alibaba offered discounts via its platforms including AliExpress, Tmall, Taobao, and Lazada. Among them, AliExpress sells goods from Chinese brands to international residents, while Tmall sells goods from global brands to China. Taobao, which may be the most well-known platform of Alibaba, sells Chinese brands' goods to people in China. And Lazada, a subsidiary of Alibaba Group that caters to Southeast Asian markets.

A New Sales Record by Alibaba

Gross merchandise value, a figure that shows sales across Alibaba's shopping platforms, was $1 billion just in 1 minute and 8 seconds. In the first hour, GMV settled through Alipay reached 84.0 billion yuan ($12.0 billion).

China's biggest online direct retailer, JD.com, reported sales of $25.6 billion by mid-afternoon. GMV surpassed last year's 213.5 billion yuan record (nearly $30.5 billion) on Monday afternoon local time. And it kept rising through the rest of the day.

At the end of the event, GMV stopped at 268.4 billion yuan, which is $38.3 billion in dollar terms. It shows a 26% rise from the figure posted last year, which is slightly lower than the 27% seen on last year's Singles Day.

In this year, Lazada, one of Alibaba platforms saw the number of buyers and merchants double this year. "This year, both buyers and merchants have more than doubled and we've already seen a series of record-breaking moments. We're looking forward to sharing even more good news," said Yin Jing, co-president of Lazada.

Related: Jack Ma Officially Retires as Alibaba's Chairman
Some Facts in Alibaba Singles Day 2019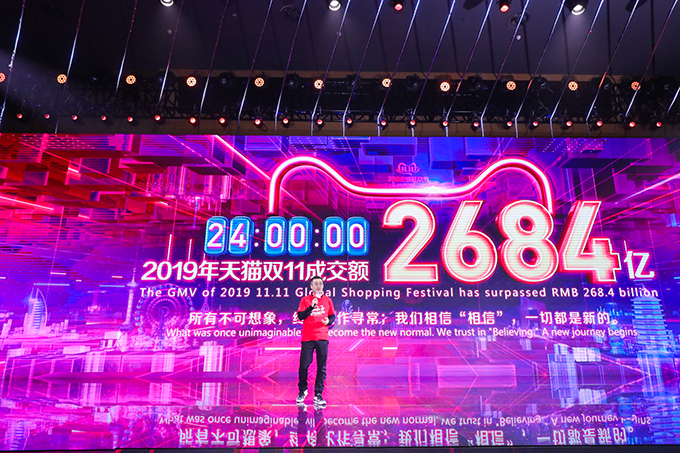 This year, more than 200,000 brands are participating, the company said. They include Apple, L'Oreal and Dyson, which had received more than 100 million yuan, or $14 million, in pre-orders.

Electronics gadgets and fashion items were among the most sold goods in this year's event, company executives said in an interview. For example, the top-selling products early in the day are 5G version of Huawei's Mate 30 Pro smartphone, as well as Apple's iPhone 11 Pro and Pro Max.

In a recent survey of more than 2,000 Chinese consumers, AlixPartners found that Chinese consumers plan to spend 54% more this year than in 2018.

The company hyped the event with a "Countdown Gala". The gala featured the performance of Taylor Swift Sunday and Asian pop icon GEM night at a Shanghai stadium. This year, Hangzhou-based Alibaba also focused on live-streaming via its platform. Livestreaming has become a significant part of the shopping experience on Chinese e-commerce sites. In a live-streamed video, Kim Kardashian announced her fragrance brand KKW will be available for sale on Tmall.

The Challenge of Alibaba

The biggest challenge for Alibaba remains the expansion of JD.com and Pinduoduo. These two ecommerce websites ave better hold over the smaller cities and towns and more organized logistics networks. The competition between the three companies is more and more intense. They spend billions of dollars in discounts to lure and sustain customers every year.

Similar to Alibaba, JD.com and Pinduoduo also host similar campaigns each year. For JD.com, their campaign began November 1, had crossed $23.6 billion as of early November 11. Besides JD.com and Pinduoduo Amazon and Walmart-owned Flipkart in India, Qoo10 in Singapore and 11th Street in South Korea also apply this model.
Have Shopify stores? Check out the best Shopify Apps to increase sales.