About 8 months ago, Twitter introduced its prototype app, Twttr, which was used to testing new ways to display conversations, including threaded replies and other visual cues. Now, those features are spotted on Twitter.com. Let's go dig into these new features.

Twttr, A Public Beta App of Twitter

Twttr, which borrows the app's original name, was first unveiled at the CES 2019 conference in January. Twitter created this prototype app to give itself a separate space outside its public network to experiment with new ideas. The company initially use Twttr to find ways to better read, understand and join conversations but could ultimately transform the entire way Twitter looks and works.

"Twitter is exploring new ways to make the conversations you care about easier to read, understand, and join," Twitter wrote in a blog post.

It invited only a few thousand English and Japanese speakers to use Twttr. However, they can openly discuss their experiences Then, the features that prove successful will likely be added to the main Twitter app.

Testers can easily submit their feedback in the Twttr app. When you open the menu item in the left-side navigation, you will see a link labeled "twttr feedback". Tap on it, then it will take you directly to a survey form where you can share your thoughts. The form asks for you to talk about what you liked and disliked, and offers a space for other comments.

Threaded Conversations

The first change is that Twitter labels the original poster, which is the person who started a conversation. This original poster has a little microphone icon, similar to Reddit. In addition to the microphone icon, it is also testing a way how to show he tweet details in a card-style layout you can activate with a tap.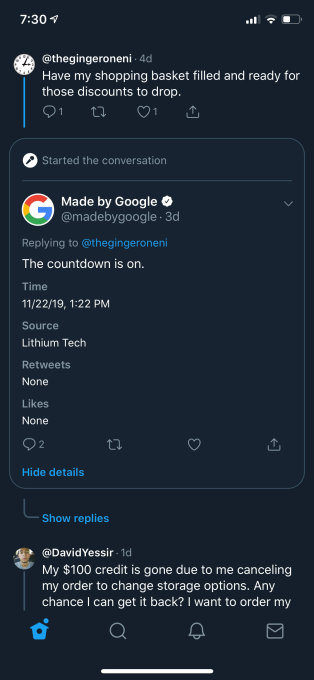 However, recently, instead of being a continual testbed of new ideas, twttr mostly rolled out small tweaks to threads. And it seems that Twitter will never branch out beyond conversation redesigns to test entirely new features.

You might also interested in Shopify Introduces an Email Marketing Tool, Shopify Email
In August, there is a change in the HR of Conversations on Twitter. Specifically, Sara Haider, who had been heading up the design of Conversations announced that she would be moving to a new team at the company. While, Suzanne Xie, who had just joined Twitter by way of the Lightwell acquisition, will be the lead of Conversations instead. And she confirmed that part of her role is working with twttr team to bring the successful testing features to the main Twitter app.

A computer engineer, Jane Manchun Wong spotted a conversation tree layout being developed on Twitter.com that similar to the one found on twttr.

Recently, the feature was tweaked a little bit. It includes the ability to focus on a specific tweet, even from a permalink.

Hidden Tweet

It's Wong again that shared screenshots of the new option, hidden tweet on her Twitter. "Twitter is testing replies moderation," she tweeted. "It lets you hide replies under your tweets while providing an option to show the hidden replies."

And in early of March, the company confirmed a new Hide Tweet feature that allows users to hide replies to their tweets from other users.

"We think this can balance the product experience between the original tweeter and the audience," Twitter's senior product manager Yasmeen Haq wrote on Twitter.

"People who start interesting conversations on Twitter are really important to us, and we want to empower them to make the conversations they start as healthy as possible by giving them some control."

Now, Twitter is testing the hidden replies feature in Canada. With this feature, users can hide specific replies to their tweets that they don't want to see in a conversation. Once hidden, these replies won't show up by default. However, there is an option for you to see the hidden replies and unhide any replies that you want.

In addition to Threaded Conversation and Hidden Tweet, Jane Manchun Wong has also revealed that Twitter is also testing an improved "Lights Out" dark mode and sidebar for the Twitter web app.

Twitter confirmed that what Wong finds is part of the company's broader plan to bring twttr's features to Twitter. However, not all features just the best parts of twttr.


Have Shopify stores? Check out the best Shopify Apps to increase sales.