According to the report of WWD, in 2017, more than 1,875 fashion-focused stores shut down. Many of retail's biggest name is among those cutting back, including Macy's Inc., Sears Holdings Corp., J.C. Penney Co. Inc., Abercrombie & Fitch Co., Ralph Lauren Corp., Sears Canada. and, J. Crew Group.

There are so many factors affecting the fashion industry such as digital innovation, rising globalization, and changes in consumer spending habits. In this article, we will talk about the statistics of the ecommerce fashion industry.

Global fashion industry statistics

With the market share is 4 percent, the global apparel market is valued at 3 trillion dollars, 3,000 billion. It accounts for 2 percent of the world's Gross Domestic Product (GDP).

To cater to the large, 3,000 billion, textile and garment industry new companies are entering the market daily, according to FashionUnited. However, most of these companies remain unknown to the consumer audience. And some are known as the individual brands that are part of these global fashion companies.

Almost 75% of the world's fashion market is concentrated in Europe, USA, China, and Japan. The US is the largest importer of garments in the world with nearly 40% of apparel products sold in the US are imported from China.

After having a general look at the global fashion industry, now we will break down the statistics of the ecommerce fashion industry.

Industry-wide data

Over the next decade, it is predicted that the expanding global market will make the sales of the fashion and apparel industry double. Worldwide, the ecommerce segment of fashion and apparel is expected to rise from $481.2 billion in 2018 to $712.9 billion by 2022. That opens a lot of opportunities: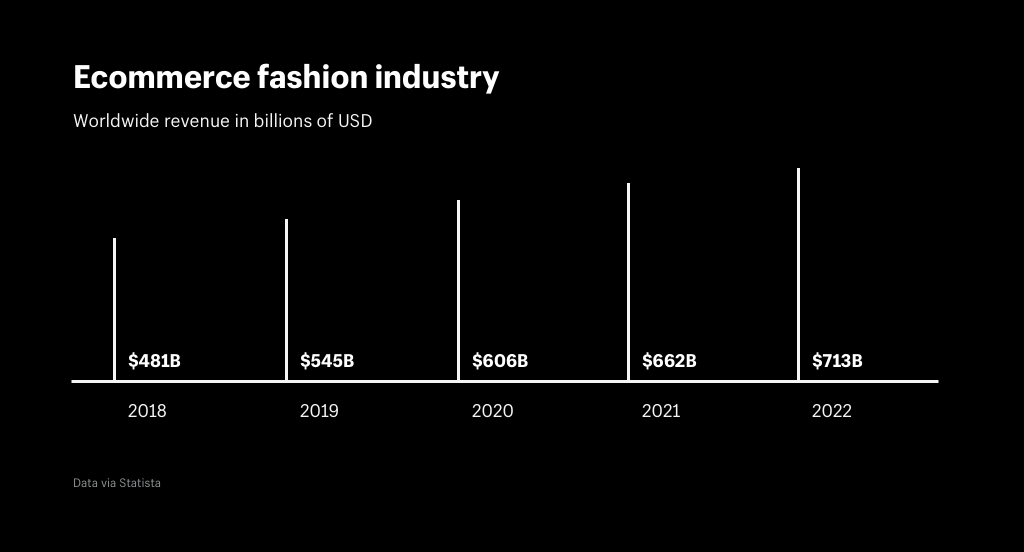 Expanding global markets outside the West
Increasing online access and smartphone penetration
Emerging worldwide middle-classes with disposable income
Innovating technologies to create experiential ecommerce
In addition, there is a prediction that the number of potential customers will grow to more than 1.2 billion by 2020. Fashion consumers will also have more buying power. Especially, the majority of these new consumers are within the 16 to 24 and 25 to 34 age groups, which is good news for fashion.

On the other hand, there are also some threats:
Death of brand loyalty due to market fragmentation
Cost of combating online return rates as high as 50%
Fast fashion's ability to create and release styles on-demand
Pressure from consumers to use ethically sourced and green manufacturing materials
You might also interested in GitHub starts blocking developers in certain countries facing US trade sanctions
Clothing and apparel

This segment has lower digital barriers to entry for all clothing merchants, compare to other segments. That means it is a great opportunity for you to market, sell, and fulfill orders globally and automatically. For this reason, worldwide revenue and revenue per user (ARPU) are both projected to grow.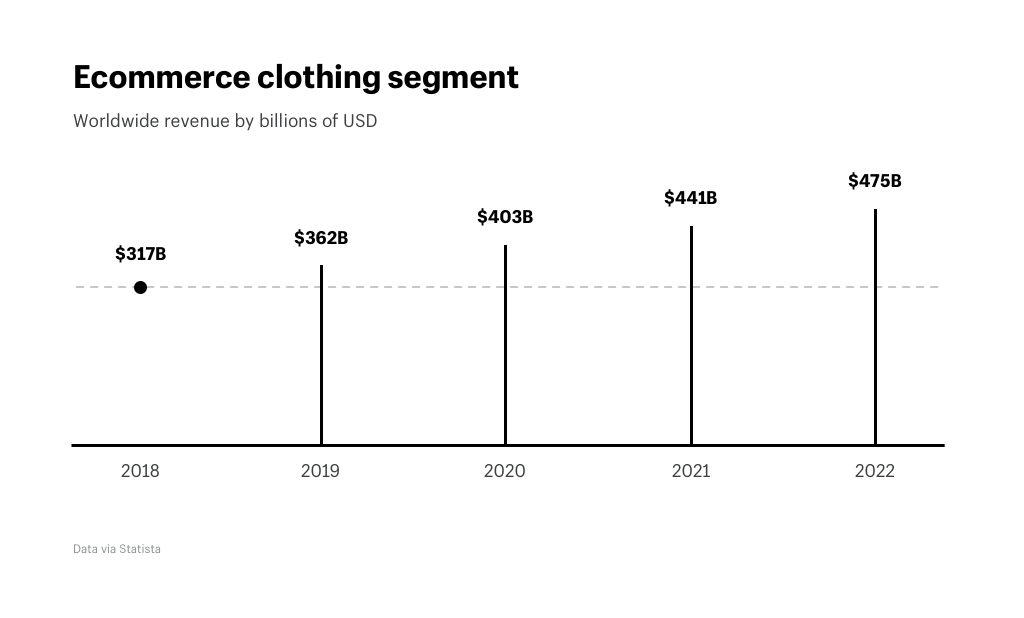 While clothing's absolute numbers are steadily increasing, worldwide revenue growth, as represented by compound annual growth rate (CAGR) is slowing. Specifically, it is down from 15.3% in 2018 to 7.6% by 2022. And between 2017 and 2022, CAGR is expected to settle in at 8.8% in the US, 8.7% in Europe, and 14.1% in China.

Shoe Segment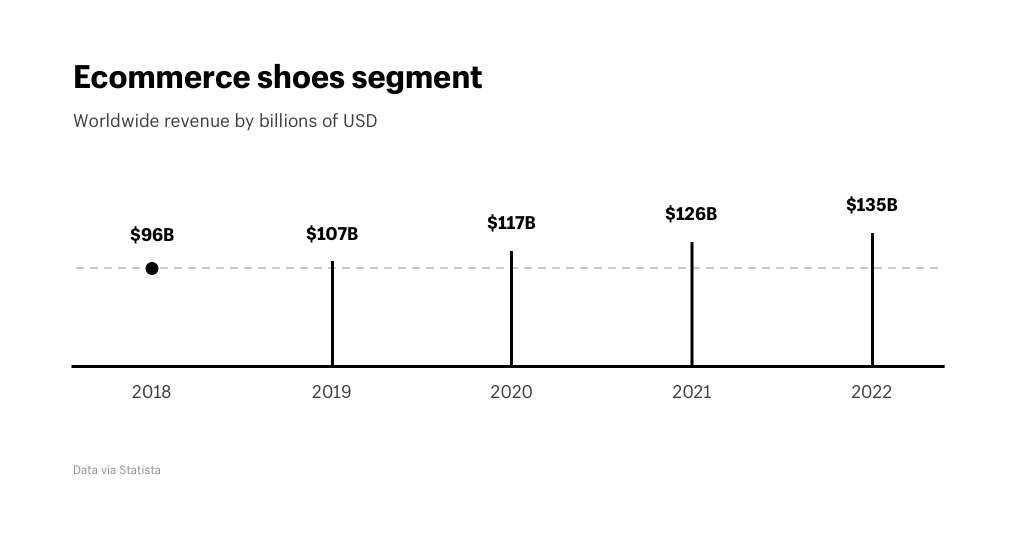 Different from clothing and apparel, revenue expansion of shoe segment of ecommerce fashion is decreasing year by year. The double digits in 2017-2019 are 13.6% and 10.8% respectively. In terms of footwear, the rate is expected to grow a mere 6.6% in 2022.

In absolute market size, it is predicted that the shoe segment will increase from $96 billion in 2018 to $135 billion in 2022.

Accessories and bags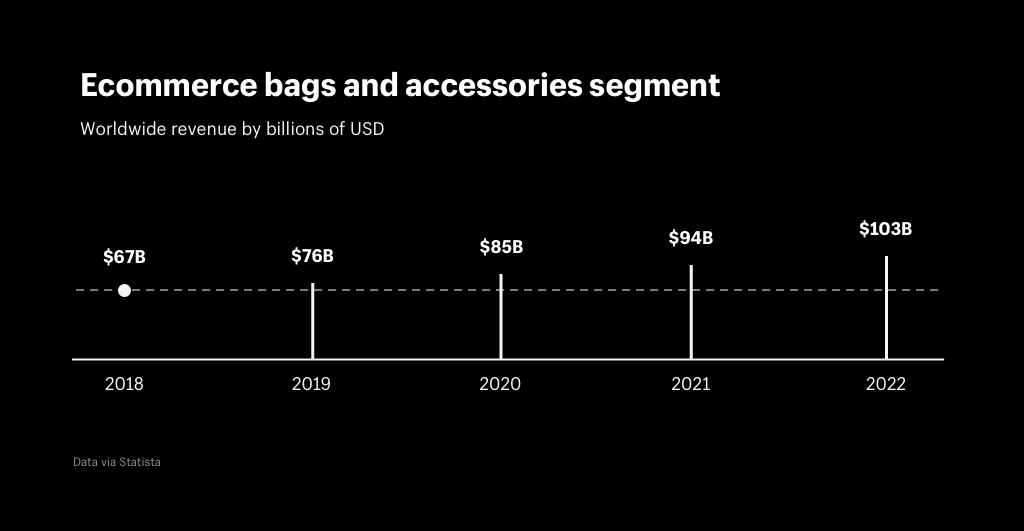 It is unsurprising that the bags and accessories segment although still growing at a stronger rate, this rate will dip down a little. It will turn down from double-digit growth, 15.6% in 2018 to single digits, 8.7% in 2022.

Those projections actually make bags and accessories become the healthiest segment of ecommerce fashion, even though its absolute numbers is the smallest.

Jewelry and luxury

Annually, the global jewelry market is growing at 5-6%. It is expected that by 2020, the jewelry market will be dominated by major global brands, stealing market share from local artisan shops. However, the jewelry market is facing a problem from wholesalers selling direct-to-consumers. In addition to these wholesalers, customers also make pressure jewelry manufacturers be more transparent about pricing.

In terms of luxury goods, because of increasing affluence in Asia-Pacific and in the Middle East, the average revenue per luxury good consumer is going up to $313 USD by 2020. At present, luxury goods sales are having sluggish growth at 3.4% annually. But McKinsey forecasts that ecommerce could triple in sales over the next decade.

Here just are the statistics of the ecommerce fashion industry. Looking for the next article to have more information about ecommerce fashion trends and strategies.